Changes to Battlegrounds for Season 1 and 2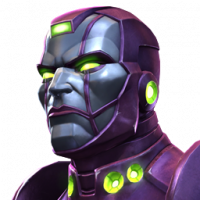 MCOC Team
Posts: 392
Administrator∙Moderator ›
Hello Summoners!

With the release of Battlegrounds earlier this month, we have been closely monitoring the feedback from the community. As a result, we are happy to announce a number of changes being implemented to Battlegrounds! Some changes will impact the final week of Season One and additional changes will be coming to Season Two.
Season One Changes
There were two guiding influences we utilized as we approached retooling Battlegrounds. Firstly, we wanted players to have more payoff for their time invested in the game mode and a comparable value to the rest of the contest. Secondly, competitive players and spenders need to be respected equally. As a result, the following changes will be implemented for the end of Season One!
Solo Objectives
We will be adding a new 'Matches Complete' Solo Objective (forfeiting a match will not reward points for these objectives). This should increase the total number of Trophy Tokens Summoners can earn throughout the Battlegrounds Season. We want Summoners to feel rewarded for every session they play.
This objective will run on the same cadence as the current one (every other day)
We are adjusting the Match Wins objective
There will be 3 tiers to the objectives:

Bronze

Bronze Match Wins

# of Match Wins - 1
200 Trophy Tokens

Bronze Matches Complete

# of Matches Complete - 3
600 Trophy Tokens
Bronze total Trophy Tokens - 800 every 2 days
Silver

Silver Match Wins

# of Match Wins - 2
400 Trophy Tokens

Silver Matches Complete

# of Matches Complete - 3
600 Trophy Tokens
Silver total Trophy Tokens - 1000 every 2 days
Gold+

Gold+ Match Wins

# of Match Wins - 3
600 Trophy Tokens

Gold+ Matches Complete

# of Matches Complete - 3
600 Trophy Tokens
Gold+ total Trophy Tokens - 1200 every 2 days
Battlegrounds Store
We are reworking the BG store, complete with reduced costs, increased purchase limits and the addition of 6* Rank 4 materials to the Thronebreaker store.
Additionally, players will be compensated for the price differential of items purchased before store prices are updated.
Original Store
Updated Store
Alliance & Solo Event Scoring
At the conclusion of the current season of Battlegrounds, we will multiply the points everyone has earned throughout the Event Objectives (both Alliance and Solo) by roughly three.
Once we do this, players should unlock any additional milestones from both events that they now qualify for and can claim them through the stash.
This multiplier will persist into Season Two at approximately the same value. 
Season Two Changes
We have larger changes for the upcoming season. A lot of these didn't make it into Season One as we had some concerns about modifying the live event and we also wanted to collect more data without major changes part way through a season. We will have more details before the start of Season Two.
Updates to Alliance & Solo Event
Players will be able to contribute progress to these events when using Quest Energy to enter matches. This way, everyone, regardless of spending, is able to contribute to the events.
Elder's Marks will remain a premium item that will allow Summoners to more quickly advance in these Events.
Updates to Victory Track and Gladiator Circuit
The Victory Track will have more Trophy Tokens that are more evenly distributed across all Ranks.
The Gladiator Circuit will see a meaningful increase in Trophy Tokens.
Increased accessibility of Trophy Tokens, paired with changes to the BG Store, will compound their value.