**BANQUET EVENT PSA**
To fully participate in the upcoming Banquet's Alliance Event you will need to be in your alliance for 14 days prior to the event's start date on December 20th. That means, stay in your alliance from December 6th onwards to enjoy all there is to offer in the Banquet event.
**Not Another Anime Reference Solo Event Returning**
This solo event has been fixed and will appear in game again on December 10th and will run through the 17th.
Reminder: This event is available to Paragon+ Summoners
INCOMING BUG FIX:

We'll fixing an issue with the Side Quests where all difficulties had the same Selector rewards.

We've fixed the Selectors in Threat Levels 4, 3, 2 and 1 to no longer contain rewards for Progression levels above the target audience.

Threat Level 4 rewards cap out at Thronebreaker
Threat Level 3 caps out at Cavalier
Threat Level 2 caps out at Uncollected
And Threat Level 1 has rewards for Proven
Fun interaction with AA's neurotoxin stun
As we all know, eons ago, Arch Angel's neurotoxin stuns were able to interrupt opponents specials. Due to how powerful this mechanic is, kabam made it not interrupt specials anymore. However, today in AW, I learned that if the stun triggers the exact same time the opponent throws a special, then their special will get interrupted.
You can skip about 42 seconds of the video to see this fun interaction. There is also another fun interaction towards the end of the video involving parry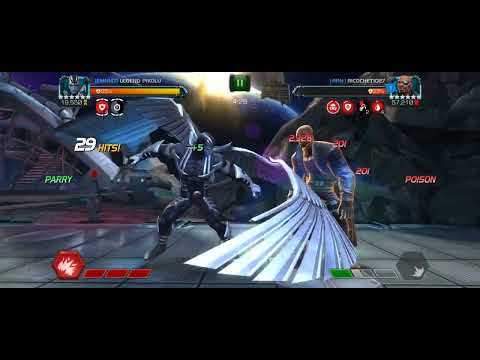 https://youtu.be/RVMnfYNblbg