**KNOWN ISSUE**
Currently, Alliance Prestige (as it concerns Alliance Quests) is not taking Relic Prestige into account. If possible, we are working to address this for the next round of Alliance Quests but will have more information for you when it is available.
Galan and Quicksilver Balancing Follow Up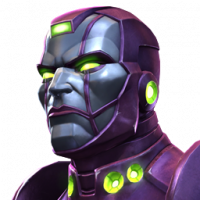 MCOC Team
Posts: 379
Administrator∙Moderator ›
Hey all,

Balance Team here once again with an update on Galan and Quicksilver:

Galan
The Battlerealm's Humble Planet Farmer has made quite a big impact in the meta! In Alliance War, we're seeing players take advantage of his ability to counter and crush the newly built Path 3 which features threats based around Armor Ups, Special Lock and Power Burn. We're also happy to see Galan hunting some of the more notorious Tech Defenders around the map such as Peni Parker, Infamous Iron Man and Nimrod. Similarly, due to the shorter fight length in Battlegrounds, Galan has been a strong attacker as expected. On the questing side, as opponent healthpools rise we're seeing Galan drop in effectiveness outside of encounters where he can find Armor Ups or Power Manipulation effects to ramp his loop. Overall, we're happy with where he's landed in the meta and won't be making any changes to his kit at this time.

Quicksilver
Similar to Galan, we're pleased with how Quicksilver has been doing in the Battlerealm! Quicksilver was designed to counter some of the more annoying defensive threats featured in Mystic Defenders such as Ability Power Rate and Miss and we're thrilled to see him countering the Mangogs, Doctor Dooms, and Ebony Maws on Defence. Opposite to Galan, Quicksilver needs some room to get his Momentum going and his performance appears to be reflecting that quite nicely as his damage output goes up as Opponent health pools go up! All in all, we're happy with where Quicksilver currently sits in the Meta and will be leaving him as is.

What's next?
We're going to be working on giving Hulk (Classic) a brand new kit! He's still early in the design process so we don't have much to share right now but his current design goals are to lean into a Brawler and Stun locking playstyle with a modern feel.