This February, Spread Your Love Throughout the Battlerealm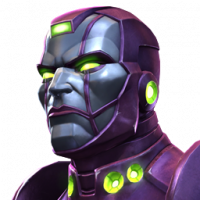 MCOC Team
Posts: 409
Administrator∙Moderator ›
It's February, Love is in the Air
Celebrate Valentine's-, Galentine's- or Singles Awareness-Day with MCOC by checking in daily throughout the month for a login calendar to send Valentines to your alliance-mates or friends. Then, help Mojo as he tries to help Sentinel find love and chase additional rewards through solo objectives!


Date.Game
LOVE is in the air... again. Tune in for DATE.GAME: Mojo's new dating show, with his new star, SENTINEL! A new Quest will be available each week. Back-to-back months with Mojo at the helm? Has he become 2023's new poster-boy?

Start Date: February 8th, 2023 @ 18:00 UTC
End Date: March 8th, 2023 @ 18:00 UTC
Format
4 quests that release weekly, Threat Levels 1-5, no progression lock, 1 energy per step
Collect Studio Passes via login calendar (one entry to each difficulty, every other day)
Use Studio Passes to access each week's quest for one attempt, consumed on entry
Additional passes will be available for purchase during the last week of the event
Choose to streamline and head directly to the final boss, or take on the full challenge for additional, on-path rewards
Collected on-path rewards are granted upon quest completion
Complete Solo Objectives for more rewards
Send Valentine's Cards to alliance members or friends to earn points toward Milestone Objectives
Full Clear Rewards
Login Calendar
Check in with MCOC every day to ensure you get everything February has to offer!
Start: February 9th, 2023 @ 00:00 UTC
End: March 8th, 2023 @ 00:00 UTC


Mojo Valentine's Cards
For Proven and above:
Collect Mojo Valentine's Card Tickets from the kickoff in-game mail, login calendar and solo objectives to send Mojo Valentine's Cards containing Profile Pictures and Shapes and Sizes Crystal Shards to alliance members and friends! 
Earn 50 points for each card sent.
*Note: There will not be rank rewards for this event.
Solo Objectives
Shapes and Sizes Crystals
Available between February 8th, 2023 @ 18:00 UTC and March 15th, 2023 @ 17:00 UTC.
Collect and combine Shapes and Sizes Crystal Shards to open Shapes and Sizes Crystals for your chance to add the following champions to your roster!

Wasp, Tigra, Domino, Ghost, Rogue, Spider-Gwen, Spider-Man (Miles Morales), Omega Sentinel, Black Cat, Black Widow, Valkyrie, Squirrel Girl, Rocket Raccoon, Peni Parker, Thing, Hulk, Sasquatch, Mole Man, Elektra, Mojo, Rhino, Juggernaut, Sentinel, Groot, Thor (Jane Foster), Hela, Jubilee, Kitty Pryde, Emma Frost, Phoenix, M.O.D.O.K.
Post edited by Kabam Jax on