Battlegrounds Season 5 Changelog - New Metas and More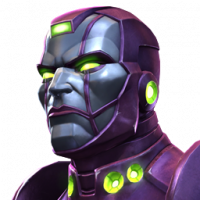 MCOC Team
Posts: 427
Administrator∙Moderator ›
OVERVIEW
New Season means new Metas! We've also got a fresh new face for all you summoners to share with each other introducing Emotes!
SEASON 5 DATES
Start
February 8th, 2023
End
March 8th, 2023
EMOTES!
Starting in Season 5, Players that make their way into the Gladiators Circuit will get exclusive Emotes as a new Cosmetic reward!
SEASON 5 META

Victory Track
Entire Month

Buff 1: Blood in the Water - 2
While the Attacker is suffering from a Debuff, the Defender gains a Passive Fury granting +150% Attack Rating lasting until all Debuffs on the Attacker expire.

Buff 2: Long Distance Relationship
While close to the Defender, the Attacker gains a Weakness Debuff every 3 seconds, reducing their attack by 10% permanently. Staying far away from the Defender causes these Weakness effects to gradually fall off.
Gladiators Circuit
Week 1

Buff 1: Blood in the Water - 3
While the Attacker is suffering from a Debuff, the Defender gains a Passive Fury granting +200% Attack Rating lasting until all Debuffs on the Attacker expire.
Buff 2: Long Distance Relationship
While close to the Defender, the Attacker gains a Weakness Debuff every 3 seconds, reducing their attack by 10% permanently. Staying far away from the Defender causes these Weakness effects to gradually fall off.
Buff 3: Insult To Injury - 3
Each Debuff on the Attacker reduces their Defensive Ability Accuracy by -30%.

Week 2

Buff 1: Second Wind (Damage Reflection) - 2
Whenever the Defender Purifies or Cleanses a Debuff, they gain a Damage Reflection Passive for 6 seconds dealing back 25% of the damage dealt by the Attacker.
Buff 2: Power Creep - 1
Each time the Defender Purifies or Cleanses a Debuff, they gain a Charge that permanently increases their Combat Power Rate by 3%. This goes up to a maximum of 20 Charges.
Buff 3: Ebb and Flow - Knock Down
The Defender has Protection, reducing all incoming damage by 60%. Knocking down the Defender removes the Protection and grants the Attacker a Fury Passive, increasing Attack Rating by 40% for 12 second(s). When the Fury expires, the Protection returns, and all Debuffs on the Defender are Purified.

Week 3

Buff 1: Fight or Flight
Every 12 seconds, the Defender gains an Unstoppable Buff for 4 seconds. If the Attacker is far away from the Defender when this triggers, the Attacker gains Unstoppable instead.
Buff 2: Muscle Wizard
Whenever a Mystic Attacker knocks down the Defender, the Attacker has a 100% chance to gain an Unstoppable Buff for 6 second(s). If the Attacker was already Unstoppable, they instead gain an indefinite Fury Buff, increasing Attack Rating by 50%. A maximum of 4 Fury Buffs can be gained this way.
Buff 3: Persistent Pressure
Defenders under the effect of Unstoppable become Stun Immune, this includes Unstoppable effects triggered outside this node. Every 15 seconds the Defender gains an Unstoppable buff for 5 seconds. The duration of this buff is reduced by 0.5 second(s) for each Prowess Buff or Passive the Attacker has.
Buff 4: Force of Will
The Defender is Immune to Ability Accuracy reduction Passives and Debuffs.

Week 4

Buff 1: Rage 1
Damage taken in a single hit is capped at 1% of Max Health. When damage cap is reached, gain a Fury Buff. Upon reaching 5 Fury Buffs activated by Rage, attacks become Unblockable. Ability Accuracy modification doesn't affect this Node.
Buff 2: Mystic Conditioning 3
Whenever the Attacker attempts to remove a Buff with a Nullify, Fate seal, or Stagger, the chances of all future Nullify, Fateseal, and Stagger effects is reduced by 20%
Buff 3: Polka Dot Power
The Attacker gains no Power from landing or receiving attacks, instead they are granted 12% of a Power Bar per second while the Defender is suffering from a damaging debuff.

Post edited by Kabam Miike on