**UPDATES TO ENLISTMENT GIFTING EVENT:**
To prevent exploitation, we will prevent new Accounts from being able to Gift enlistment crystals. We will also be taking action on those who are using 3rd Party Sellers, Bots and other farms to gift themselves mass amounts of Enlistment Crystals. Lastly, we will be adding an expiration timer to Enlistment Crystals. All unopened Enlistment Crystals will expire on Oct 18 @ 17:00 UTC. For more information, please see this post:
https://forums.playcontestofchampions.com/en/discussion/346104/updates-to-enlistment-gifting-event
**KNOWN ISSUE**
We have adjusted the node placement of the new AW maps to better allow path traversal. As a result, defender placements have been reset. Please, take a moment to re-place your defender setup. We will be pushing out a message in-game shortly.
Happy April! Time to spring into the Sinister Vaults!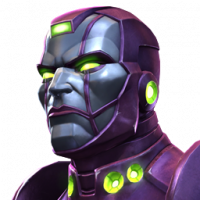 MCOC Team
Posts: 458
Administrator∙Moderator ›
Overview
Explore the vaults, find safes, then crack the code by collecting hints from solo objectives, grab your spoils and dash! Is this a heist? Certainly feels like a heist… Is it only a heist if you're stealing? What if you're stealing for the good guys? Nothing is straightforward, in…
Sinister Vaults
Spider-Man has tracked down the location of the Sinister Vault and needs your help to crack the codes of Sinister Safes! Find Sinister Keys every day and use them to enter the Vault. Sinister spoils are hidden in chests, so you never know what you might get. However they have been labeled for easy sorting! (Catalyst icon, Crystal Shard icon, etc). But keep a close eye on the contents of your rewards, there should be some hints hidden around that we can use to open the Sinister Safes to gain access to deeper rooms of the Vault.
Start Date: April 5th, 2023 @ 17:00 UTC
End Date: May 3rd, 2023 @ 17:00 UTC
Format TL;DR
Get Sinister Keys, go to the Sinister Vault. Find a safe. Complete objectives to get art which gives you hints at the password to the safe. Then open the safe to get the Zone Pass and enter the next zone.
Format, but more detail
Collect Sinister Keys from the initial in-game message and Log-in Calendar (multiple each day)
Use Sinister Key as entry into the Sinister Vaults (consumed on entry)
Collect Sinister Safes, hidden in chests on Side Quest paths; each zone has one safe, it is on the same path for everyone
Open Sinister Safes to obtain Zone Passes required to open new pathways; Zone Gates will NOT consume Zone Passes (so you can access the zones in any difficulty)
1 map, 4 Zones; 3 Zones require Zone Passes (Zone 1 does not require a pass)
Zones 1 and 2 have 6 paths each, Zones 3 and 4 contain 8 paths

To open your Sinister Safes:

Safes will require the correct 4-digit combination to get the reward
6 Objectives will appear each Wednesday requiring you to defeat specific Champions within the Quest
Each Objective will reward a piece of 'art' hinting at the Sinister Safe combinations

Some art will provide hints, but not all can be trusted…
Solve the Sinister Safe puzzles on your own (or coordinate with other players) to unlock a new Zone each week
Spider-Man is also working to crack the codes. Expect a message from him at the end of each of the first 3 weeks of the Event to help you open Safes from Zones 1, 2 and 3

Completing the Zone 4 Safe awards a Title, but you'll have to solve that one without help from Spider-Man.
Hint items can also be traded into the Store for Titles between April 26th, 2023 @ 17:00 UTC and May 3rd, 2023 @ 17:00 UTC.
Log-In Calendar
Start Date: April 6th, 2023 @ 00:00 UTC
End Date: May 4th, 2023 @ 00:00 UTC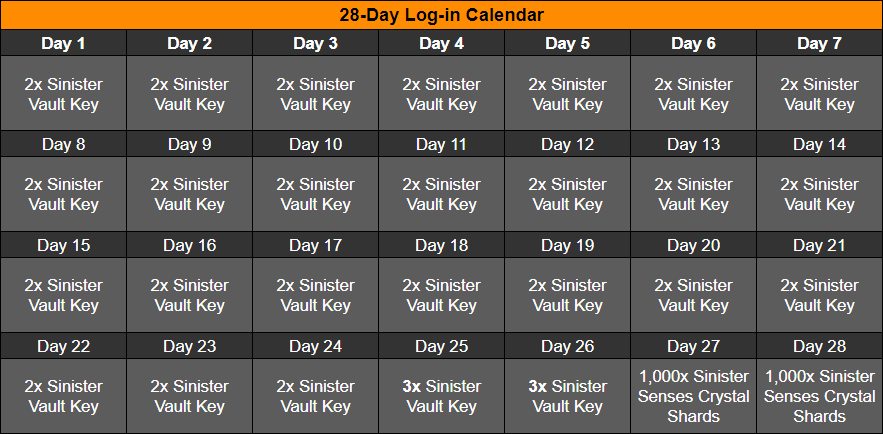 Full-Clear Rewards
Clear every path, open every Sinister Safe and just be generally awesome and you'll be the proud owner of the following monthly rewards! By logging in every day through this event, Summoners will receive enough Sinister Keys to fully explore 2 difficulties, so budget them accordingly!
*Note* - Class ISO and Relic materials are found exclusively through Solo Objectives.
Solo Objectives
For the first 3 weeks of Sinister Vaults, Summoners will receive 6 Bounty-style Solo Objectives, divided by progression level, that will challenge you to fight a specific Champion. Each successfully completed Solo Objective will award you 1 Sinister Hint, Class-ISO, and Relic materials (Uncollected+).
Sinister Senses Crystals
Available between April 5th, 2023 @ 17:00 UTC and May 10th, 2023 @ 17:00 UTC.
Collect and combine
Sinister Senses Crystal Shards
to open
Sinister Senses Crystals
for your chance to add the following champions to your roster!
Agent Venom, Anti-Venom, Black Cat, Carnage, Doctor Octopus, Electro, Green Goblin, Iron Patriot, Kingpin, Knull, Kraven, Mister Negative, Mysterio, Peni Parker, Rhino, Scorpion, Spider-Gwen, Spider-Ham, Spider-Man (Classic), Spider-Man (Miles Morales), Spider-Man (Stark Enhanced), Spider-Man (Stealth Suit), Spider-Man (Supreme), Spider-Man (Symbiote), Spider-Man 2099, Spot, Symbiote Supreme, Venom, Vulture