**Attention Summoners**
Due to issues surrounding Defensive Tactics, points from the current matchup in Alliance Wars will be removed after the season.
War Rating will not be manually adjusted.*
We are reducing the minimum matchup cutoff from 5 to 4 for this season.
We will continue to monitor the impact of this decision.
Update on the Fight Against Cheaters: May 2nd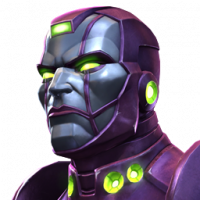 MCOC Team
Posts: 429
Administrator∙Moderator ›
The last few weeks have been busy for the anti-cheat program. On the Battlegrounds front, we have continued to improve our cheat detection. Thanks to our data team, we also have a brand new tool to help us in our manual review of borderline cases. This tool has helped us identify some high-ranked cheaters that had previously slipped through our other detection methods.

We also took action on the over 1800 accounts that were carried by cheaters in Incursions. These players received an escalating ban and were stripped of their Legends titles. Additionally, these players had 7* shards removed from their accounts equivalent to the maximum value of rewards they could earn completing a Threat Level 6 run (this includes both the Zone rewards and the rewards from the meta event).

Why 7* shards? Because removing the dozens of different types of rewards these players gained would have been impossible, and because almost all of them had 7* shards, there was a convenient resource that would could remove to apply the punishment. We also felt that removing one of the most coveted resources as punishment would demonstrate that we take cheating very seriously. The other option was to apply a negative Unit balance (AKA Contest Credits) to the accounts, but we have never done this before for behavior that didn't involved real money changing hands. Let this be a warning though, if you engage in breaking our Terms of Service in any way, you may find a negative Unit balance in your account in the future.

We do anticipate one more ban wave related to some borderline cases for Incursions cheating. In the meantime, to those of you who received a temporary ban, your accounts have been flagged and a lower threshold of evidence will be used to ban you again in the future. If you would like to continue playing our game, it's time to become upstanding citizens of the Battlerealm.