**Attention Summoners**
Due to issues surrounding Defensive Tactics, points from the current matchup in Alliance Wars will be removed after the season.
War Rating will not be manually adjusted.*
We are reducing the minimum matchup cutoff from 5 to 4 for this season.
We will continue to monitor the impact of this decision.
WARNING: If you're Constantly Queueing and Rejecting Matches in Battlegrounds, Stop!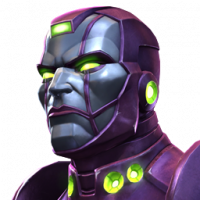 MCOC Team
Posts: 430
Administrator∙Moderator ›
Summoners,

It has come to our attention that some Summoners have taken to constantly entering Matchmaking in Battlegrounds, and then rejecting all matches. While this behaviour existed in earlier seasons, it has become too prevalent.

While we work on new tech that allows us to remove the ability to reject matches completely, we want to let you know that this behaviour is not acceptable and will be treated as an exploit moving forward.

Starting immediately, we will ban and/or zero out the Battlegrounds progress of any Summoner we find to be exploiting this tactic.

We want all Summoners that play this game fairly, and are competing earnestly to know that we will not tolerate any unsportsmanlike behaviour, and, as you may have noticed, are taking a much more severe approach to dealing with cheaters.