Battlegrounds Season 8 - Addressing Latency in S7, Major Medal AND Reward Updates!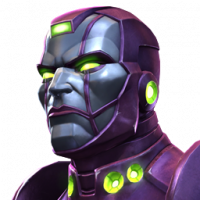 MCOC Team
Posts: 433
Administrator∙Moderator ›
Addressing Issues in Season 7
Season 7 saw a particularly egregious spike in latency issues for an extended period of time. We tried to work as quickly as possible to resolve the server issues, but the impact was undeniable. As a result, we will be refunding BG items spent between Friday, April 28th 10:00am PDT and Wednesday, May 3rd 10:00am PDT. This includes: Energy, Elder Marks and Victory Shields.
This will require a bit of time to allow our engineers to pull a lot of specific data and, as such, our timeline for this isn't locked. We will provide more information once we have a better idea of when this will be distributed.
Additionally, we will be sending all accounts 5,000x Trophy Tokens. As they will be going to all accounts, these tokens will be easier to prep and, therefore, will be distributed as early as this week.
Season 8 Overview
MORE MEDALS FOR ALL (in the Victory Track)! This Season we've got a huge update to the Medal economy for players in the Victory Track. New Rewards for those competing in the Gladiators Circuit, as well as updates to both the Solo and Alliance Event.
SEASON 8 DATES
Start
End
Victory Track Updates!
More Medals for Most.


Beginning with Season 8, we will be kicking off the first of many updates with changing the current medal economy and how many wins you need to climb through the Victory Track. 
Intention: we want Summoners to feel like their time in Battlegrounds is valuable, and most of all we want to see more players able to climb through the ranks of Battlegrounds and get those Juicy rewards. 
Starting with Season 8 Summoners will gain 2 Medals for each win until they reach Diamond. Losses will still only remove 1 Medal. This means that keeping a consistent 50% win rate should allow you to climb all the way to Diamond.
Along with this change, we will be shifting the number of Medals required for some of the ranks, here's the full list!
Summoners might end up in a situation where they may have extra Medals after ranking up. These Medals will NOT carry over, for each rank, your Medals will reset to 0. For example: If you have 2 Medals in Silver 1 and then win, you will enter Gold 3 with 0 Medals.
REWARDS!
We are planning two major rewards updates. Season 8 will see the first: reward additions to the Gladiator's Circuit and new Ranked Rewards for Solo- and Alliance Events.
Gladiators Circuit Rewards
The Gladiator's Circuit rewards will see the addition of 7* Shards, an increase in 6* Relic shards and an increase in Tier 1 Celestial Alloys. Currently, GC rewards have a Relic reward identity; we decided to make an exception for 7* Shards, and players can expect the same for Titan Shards when they are introduced.
Solo Event
Solo Event ranked rewards will see the addition of 7* Shards.
Alliance Event
The Alliance Event ranked rewards are being updated to include Tier 6 Class Catalyst 
Fragments, and are also seeing a large increase in Tier 6 Basic and Tier 3 Alpha Catalysts.
What's Next?
A significant portion of the value of Gladiator's Circuit ranked rewards is tied up in the large amount of Trophy Tokens. Without an update to the store, these rewards will lag behind where we would like them to be. We are prioritizing this store update, and should have news to share about it soon. Players can expect the cost of Rank 4 materials and 5* Relic Shards to come down, and will also see the addition of Tier 6 Class Catalyst Fragments, 6* Relic Shards and 7* Shards.
SEASON 8 META