**UPDATES TO ENLISTMENT GIFTING EVENT:**
To prevent exploitation, we will prevent new Accounts from being able to Gift enlistment crystals. We will also be taking action on those who are using 3rd Party Sellers, Bots and other farms to gift themselves mass amounts of Enlistment Crystals. Lastly, we will be adding an expiration timer to Enlistment Crystals. All unopened Enlistment Crystals will expire on Oct 18 @ 17:00 UTC. For more information, please see this post:
https://forums.playcontestofchampions.com/en/discussion/346104/updates-to-enlistment-gifting-event
This ain't punk, this is a METAL INFESTATION - June Side Quest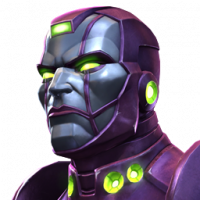 MCOC Team
Posts: 460
Administrator∙Moderator ›
Story Bits
An Inter-Dimensional Portal has opened up the Multiverse, right here in the Battlerealm. Pouring through this portal are out of control, mechanical Spider-Bots! These mechanical critters were stuck in self-replicating mode, creating hundreds of thousands of themselves. Spider-Man (Miles Morales) has disabled the self-replicating feature, but now he needs your help! The Spider-Bots have been contained to one sector of the Battlerealm, but there's no telling how long they can be kept quarantined there!
Start: June 7th, 2023 @ 17:00 UTC
Finish: July 12th, 2023 @ 17:00 UTC
Quest Format
1 path, 7 fights, consistent buffs, defenders are randomized (1 of 5 per node)
Acquire S.E.I.Z. Devices by completing Solo Event Milestones
Use S.E.I.Z. Devices to enter the quest

S.E.I.Z. Device is consumed on entry
Each Device can access any Threat Level

Win fights to collect Spider-Bots

Leaving a quest run prior to completion will allow you to keep your currently accumulated Spider-bots

Spend your Spider-Bots in the Spider-Exchange Store for goodies!
Earn Entry Items
Earn an in-game Title for clearing all Milestones!
"Why not a log-in Calendar?"
With log-in calendars, Summoners who don't log in for a day are punished by not receiving entry items. This month's structure allows players to accumulate daily milestones that contain S.E.I.Z. Devices without the risk of missing one!
Earn Spider-Bots
Complete fights in Metal Infestation to earn Spider-Bots!
Note, there are no completion rewards, as they are looped into the 7th fight!
Spider-Exchange Store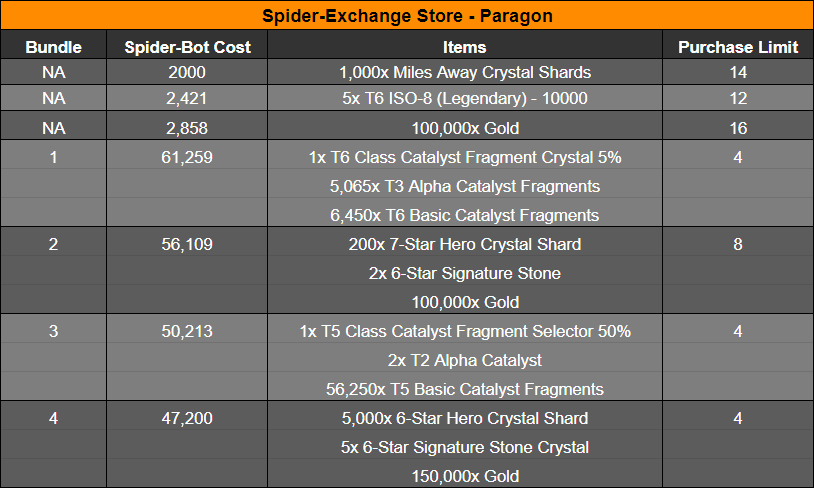 Solo Objectives
Also! Receive 'Made it Rain' title for completing Stomping Spiders 5!

Tap/Click to enlarge

Tap/Click to enlarge

Tap/Click to enlarge

Tap/Click to enlarge

Tap/Click to enlarge
Solo Events
Earn one point for every Spider-Bot spent!
Also! Earn a PFP and in-game Title for reaching Milestone 9!
Miles Away Crystal
Collect Miles Away Crystal Shards to open Miles Away Crystals for your opportunity to add the following champs to your roster!
Spider-Man (Miles Morales), Iron Patriot, Electro, Green Goblin, Venom, Rhino, Spider-Gwen, Nick Fury, Ms. Marvel (Kamala Khan),Black Widow, Spider-Man (Classic), Spider-Man (Symbiote), Spider-Ham, Spider-Man 2099, Spider-Man (Stealth Suit), Mysterio, Mister Negative, Vulture, Red Goblin, Spider-Man (Stark Enhanced), Scorpion, Kingpin, Taskmaster, Gwenpool, Spot, Peni Parker, Iron Man, Captain America (Sam Wilson), Doctor Strange, Thor (Jane Foster), Doctor Doom, Kate Bishop, Sandman
Post edited by Kabam Jax on