**UPDATES TO ENLISTMENT GIFTING EVENT:**
To prevent exploitation, we will prevent new Accounts from being able to Gift enlistment crystals. We will also be taking action on those who are using 3rd Party Sellers, Bots and other farms to gift themselves mass amounts of Enlistment Crystals. Lastly, we will be adding an expiration timer to Enlistment Crystals. All unopened Enlistment Crystals will expire on Oct 18 @ 17:00 UTC. For more information, please see this post:
https://forums.playcontestofchampions.com/en/discussion/346104/updates-to-enlistment-gifting-event
It's time for Fun in the Sun(spot)! Summer Sales start Jun 30 @ 10AM PT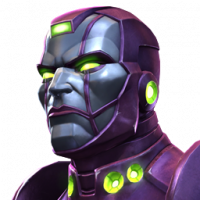 MCOC Team
Posts: 460
Administrator∙Moderator ›
Greetings Summoners!
We're kicking off our much-anticipated "Fun in the Sun(spot)" Summer Sale tomorrow! This annual sale has taken on many forms, but it always means one thing… great deals on rare items and resources!
The Fun in the Sun(spot) sales event will run from Friday, June 30, 10:00 AM PDT to Friday, July 7, 10:00 AM PDT.
You can expect BIG bonuses when buying Unit packages, and this year, you'll be able to buy one extra of each package in the new Summoner's Market! Don't forget, Summoner's Market packages include even more Units!
Check out the Summoner's Market on our website at playcontestofchampions.com.
As pointed out by DNA3000, ensure you are only purchasing from the one official Summoner's Market on playcontestofchampions.com.
If you want more information on the Summoner's Market or need help linking your account to a Kabam ID,
check out this post here!
If you've ever needed to log in to MCOC on a new phone, you already have your Kabam ID! Use the same email and password you would use to log into the game for the Summoner's Market!
If you purchase the total limit of any of the Unit packages, you will be given access to the Unit package for the Progression level below you.
"But what about the Unit deals?!" Don't worry, we've got those too, and this year, we're giving Cavalier Summoners access to the Thronebreaker offers and all Proven and Conqueror Summoners access to the Uncollected offers. We hope this will help you conquer the hurdles ahead and accelerate your progress!
The Unit Offers this year are designed to let you customize your deals to your needs. When you log in after the sale starts, you'll be given the option to buy one of 3 Packages. 1A, 1B, 1C. After purchasing one of those, you'll be given access to 2A, 2B, 2C; once you've purchased one of those, you'll get the final choice of 3A, 3B, or 3C. Purchasing any of those will give you access to Package 4. This one is a single option.
For those with plenty of units to spare, you'll be able to go through this series of choices a second time after you have purchased Package 4! That means that you can choose 2 different sets of packages or can double up packages that suited your needs.
Packages in Tier 1 will be available for one week, but after purchasing one of them, you'll only have 48 hours to purchase each tier afterwards.
No sneak peeks, but keep an eye on our Facebook and Twitter for previews when the sale goes live, or check the sales out in-game when they go live!
Post edited by Kabam Jax on