**UPDATES TO ENLISTMENT GIFTING EVENT:**
To prevent exploitation, we will prevent new Accounts from being able to Gift enlistment crystals. We will also be taking action on those who are using 3rd Party Sellers, Bots and other farms to gift themselves mass amounts of Enlistment Crystals. Lastly, we will be adding an expiration timer to Enlistment Crystals. All unopened Enlistment Crystals will expire on Oct 18 @ 17:00 UTC. For more information, please see this post:
https://forums.playcontestofchampions.com/en/discussion/346104/updates-to-enlistment-gifting-event
Battle Against Cheaters Update - July 10, 2023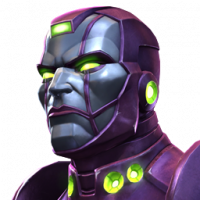 MCOC Team
Posts: 460
Administrator∙Moderator ›
Last month we took action against hundreds of Arena cheaters. The goal of that action was to restore competitive integrity to the Arena, and it worked. Arena cutoffs fell substantially and those engaging in fair play were much more likely to secure the rewards they deserved.
Over the past month that competitive integrity has started to slip again. Cheaters began to return to the Arena. We saw the Forum posts; we saw the YouTube videos.
We knew these players were cheating, and we did nothing to respond. Why? Because we knew the modding community was going to test our defences with accounts they didn't care about.
We wanted them to build confidence that the changes they had made to their mods would evade our detection and then bring back online the accounts they didn't want to lose. This also worked. While cheating in the Dani Moonstar Arena was sparse, the Lady Deathstrike Arena saw a substantial return of modders. Not to the same extent as before the June action, but enough that we have decided to pull the trigger with another ban wave.
To this end, over 100 Arena cheaters were banned today. All of these bans were permanent, regardless of previous cheating behaviour or any other factor.
As these bans are permanent, no clawbacks will be required for champions acquired in the Arenas. Their Battlegrounds Solo Event scores and Gladiator's Circuit ranks will be set to zero. While we are unfortunately unable to zero out their Battlegrounds Alliance Event scores during the season, we believe we should be able to do so after the season closes and before ranked rewards are distributed, and we will be doing this where possible.
There were a number of borderline cases we need to investigate further. Once this is complete and action is taken against these accounts, featured hero rewards (from Dani onwards) will be corrected for those promoted to the top 400.
This may take up to the end of the month. Correcting these rewards multiple times would take up a significant amount of the data resources we are using to catch more cheaters, so we ask that Summoners please be patient with us while we try to catch as many of these cheaters as possible.