**UPDATES TO ENLISTMENT GIFTING EVENT:**
To prevent exploitation, we will prevent new Accounts from being able to Gift enlistment crystals. We will also be taking action on those who are using 3rd Party Sellers, Bots and other farms to gift themselves mass amounts of Enlistment Crystals. Lastly, we will be adding an expiration timer to Enlistment Crystals. All unopened Enlistment Crystals will expire on Oct 18 @ 17:00 UTC. For more information, please see this post:
https://forums.playcontestofchampions.com/en/discussion/346104/updates-to-enlistment-gifting-event
Introducing: Alliance Wars Persistent Placement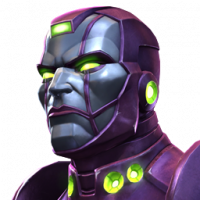 MCOC Team
Posts: 460
Administrator∙Moderator ›
Overview
The all new Persistent Placement Phase is here! This will result in the removal of the current Defensive Placement Phase in wars. Once you set your Defenders, they will remain on the map until changed. This allows players who consistently play Alliance War to maintain their placements without prompt, or remove their placements and allow other Summoners to rotate into the following War.
This also means:
Your defenders will no longer be locked to AW and can still be used in Solo content!
New War Entry Flow
Enlist → Matchmaking → Attack
With this Persistent Placement Phase, an Alliance has the ability to edit their Defense and allow it to persist indefinitely, until changed. Alliances will need to set their defense before the Alliance enters "Matchmaking". As a result of removing the defensive placement phase, the Attack Phase will now last 1 day, and 20 hours. While an attack phase is active, any changes made to defensive placement will be implemented in the following war.
How does it work?
Enter the War Room
Place War Defenders
If you are playing at Challenger or Expert Tiers, you can view Defender Bans using the buttons on the right of the screen. At the bottom, you can see the buttons to allow you to select the map you want to place defenders on. For example, if you are playing on Challenger, you may place on Expert Maps, or on Heroic maps, if you move up or down a tier.
For Alliances that like to rotate members in and out of Battlegroups, you will be able to swap Alliance members and their defenses for the following matchup during the current matchup using the map selector at the bottom of the screen. To further elaborate, if in the attack phase of match 1, any changes to defensive placement will be implemented in match 2.
When do Masteries lock?
The moment that the "Match is Found" and the "Attack Phase" begins, the Alliance Defense will be locked in. At this moment, Masteries will be locked in and applied to your Defense.
Once you are in the Attack Phase, the player may change their masteries to suit their attack needs.
If Summoners make changes to their masteries during the Attack Phase, they will need to take care to adjust their defensively-focused masteries prior to the conclusion of the next matchmaking period to ensure they are implemented in their defensive placement.
The moment the matchmaker time reaches zero, you cannot edit your current war Defense. Any changes made to your defense will only apply to your next wars defense.