**UPDATES TO ENLISTMENT GIFTING EVENT:**
To prevent exploitation, we will prevent new Accounts from being able to Gift enlistment crystals. We will also be taking action on those who are using 3rd Party Sellers, Bots and other farms to gift themselves mass amounts of Enlistment Crystals. Lastly, we will be adding an expiration timer to Enlistment Crystals. All unopened Enlistment Crystals will expire on Oct 18 @ 17:00 UTC. For more information, please see this post:
https://forums.playcontestofchampions.com/en/discussion/346104/updates-to-enlistment-gifting-event
Battlegrounds Season 10 Details - Battlerealm Brawl Qualifiers!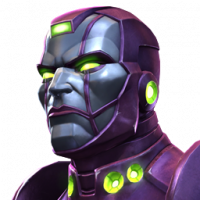 MCOC Team
Posts: 460
Administrator∙Moderator ›
OVERVIEW
Season 10 will be our first season of an extended Victory Track. It will also lay the groundwork leading into the first fully seeded Season.
SEASON 10 DATES
Start
End
Battlegrounds Seeding
What is Seeding?
Seeding is a new system added to Battlegrounds that allows Summoners to start their Season part-way up the Victory Track. It will be introduced in Season 10 and Summoners will have their first "Seeded" season starting in Season 11. This means that whatever rank you ended Season 10 in is going to have effects on where you start Season 11.
How does it work?
Each Season Summoners will be demoted 6 ranks from where they ended the last season. The only exception to this is Summoners cannot be seeded higher than PLAT 1. That means Summoners at the top of Vibranium as well as in the Gladiators Circuit will be seeded into Plat 1.
What does this look like:


A Summoner ending the Season in Plat 1 will be seeded into Silver 1.
A Summoner ending the Season in Gold 1 will be seeded into Bronze 1
A Summoner ending the Season in Gladiators Circuit will be seeded into Plat 1
How do rewards Work?
Once season 11 rolls around, Summoners will be starting partway up the Victory Track. In order to make sure they don't miss the rewards for the ranks they're seeded above, Summoners will get all the rewards below where they were seeded after playing 5 matches during that season. That means if you were seeded in Plat 1, you will only need to play 5 matches to get all the rewards from Bronze 3 -> Plat 2.
With all these changes, we're going to be keeping a very close eye on how this affects matchmaking, season fatigue and the number of Summoners that make it into the Gladiators Circuit. Expect more consistent updates each season after we've had some time to digest what the new landscape of Battlegrounds looks like!
Victory Track Updates!
Season 10 is adding 3 new Ranks to the Victory Track. With the introduction of seeding we wanted to extend the Victory Track as Summoners will no longer have to progress through the entirety of it.
The new ranks and their rewards are as follows:
We're also making some changes to the number of medals required to progress through the early stages of the Victory Track. As we add seeding, Summoners will continue to race through the Victory Track at faster-than-ever paces, and we want to make sure that it is still an integral part of the Battlegrounds experience.
Bronze Medals required to rank up: 2 → 3
Silver Medals required to rank up 3 → 4
Plat Medals required to rank up: 5→3
Plat Medals gained 2→1
Matchmaking
In Season 10, we're making some more matchmaking changes. Our intent is to make matchmaking less focused on account power in the earlier ranks of Victory Track. Over the past number of seasons, we've been lowering how much Account Power plays into the matchmaking in the early ranks of the Victory Track. We've been making these changes because we noticed a high number of Summoners with weaker account power having a much easier time getting to the upper ranks or Gladiators Circuit due to them only matching up with accounts of similar power. This meant that often it was easier to have a fresh Uncollected account with a Paragon-experienced Summoners cruising through the Victory Track. We feel that this is pretty unreasonable and that it's heavily skewing the matchmaking and Battlegrounds experience for Summoners of both high and low account powers.
The changes we've made to this point have already seen some great results. Inevitably, it will lead to some uneven matches where massive accounts punch down against newer folks; it is unfortunate but this change will allow those accounts to climb faster than others, allowing them to progress out of the lower level matchmaking pools sooner. With seeding being introduced, these accounts should be moving to higher ranks even faster and each season we will see fewer and fewer matches with a large disparity of account power. We're going to continue monitoring this and ensuring that Battlegrounds feels fair for Summoners of all skill levels.
The introduction of Seeding is going to shake up what rank Summoners start each season at and spend most of their time in so this will be the last matchmaking change for a few seasons to let us collect data on how it changes the landscape of the Victory Track.
Season Length
For Season 10 we're going to be extending the duration of the Season by 5 hours. This is only planned for Season 10 as we want to make sure we have ample time to fully vet the leaderboards for the Battlerealm Brawl Qualifiers. 
That means instead of ending at 10:00 AM PST the event will be ending at 3:00 PM PST.
SEASON 10 META
With the qualifiers to the Battlerealm Brawl taking place we've elected to focus on mastering the core gameplay of the Contest for this month.
Best of luck to you Summoners trying to make the climb for top 8!
Post edited by Kabam Jax on