**UPDATES TO ENLISTMENT GIFTING EVENT:**
To prevent exploitation, we will prevent new Accounts from being able to Gift enlistment crystals. We will also be taking action on those who are using 3rd Party Sellers, Bots and other farms to gift themselves mass amounts of Enlistment Crystals. Lastly, we will be adding an expiration timer to Enlistment Crystals. All unopened Enlistment Crystals will expire on Oct 18 @ 17:00 UTC. For more information, please see this post:
https://forums.playcontestofchampions.com/en/discussion/346104/updates-to-enlistment-gifting-event
The Legends Celebration Event starts August 16th!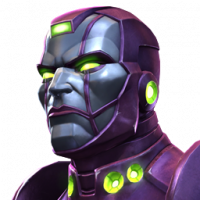 MCOC Team
Posts: 460
Administrator∙Moderator ›
Welcome to the Legends Celebration Event!
Start: August 16th, 2023
Event Overview
Collect rewards every day from your 14-Day Login Calendar
Log in frequently to open your 7-Hour Legends Crystal
Test your mettle in BrutalDLX's Legends Challenge
Compete in 5- and 6-Star Arenas for juicy rewards and 2-Star Collector Crystals
Paragon Summoners can Collect 3x Legends Celebration Tokens to trade in for a 7-Star Legends Selector!
Log-in Calendar
7-Hour Crystal
Login often to open your 7-Hour Crystal!
7-Hour Crystals will now reward two items: a Champion-related item and a consumable item
Most Champion items are progression specific
Has a chance to drop an exclusive 7-star Champion Selector, not gated by progression!
Other drops include 20% of a T6CC, 50% of a T6B/T3A, 7* shards, Paragon Crystals etc.
BrutalDLX's Legends Challenge
Starts: August 16th, 2023
Ends: September 6th, 2023 
Format
2 chapters, 7 total quests
Chapter 1 has 6 quests 1 for each progression level, Proven to Paragon.
Chapter 2 has 1 quest, the BrutalDLX Challenge tuned to test even the most skilled Summoners
Quests in Chapter 1 contain 6 paths with 6 fights on each
At the end of each path there is a portal that allows you to proceed to the next path or go to the exit
Fights get more difficult as you progress
In Chapter 2, there is only one path where the player must fight all bosses (except Hulk) 6 times, with each island getting progressively harder
Rewards
Note: Listed rewards are for full event completion and exploration - they do not include individual Chapter completion/exploration rewards.
5- and 6-Star Arenas
Starts: August 16th, 2023 
Ends: August 30th, 2023 
5-Star Arena
Complete fights with 1- and 2-Star Champions to earn 1,500x points per fight
Requires Level 5+
6-Star Arena
Complete fights with 1- and 2-Star Champions to earn 1,500x points per fight
Requires Conqueror Progression or higher
Solo Event
Win fights in the 5- and 6-Star Arenas to earn rewards. 
Note: Listed rewards are total event rewards for each progression bracket.
Paragon Players: max out the Solo Event to earn a Legends Celebration Token!

7-Star Legends Selector
Collect all 3 Legends Celebration Tokens to earn a special 7-Star SELECTOR and pick one of the following champions!

Captain America (Sam Wilson), Emma Frost, Red Goblin, Ant Man, Ebony Maw, Black Panther
EDIT Aug 15th: We're adding an additional bundle for a
6-Star Nexus Crystal Selector (limit 3, costs 1x token)
so that players who can't get all 3x tokens (or who don't want the 7-Star Selector) can still trade them in for something. This token trade-in selector will be available starting September 6th so Summoners won't erroneously trade in one token and make themselves unable to collect the 7-Star Legends Selector.
We also updated the existing
Legends Token Bundle to include a T6CC Selector
along with the 7-Star Champ Selector.
Post edited by Kabam Jax on