**UPDATES TO ENLISTMENT GIFTING EVENT:**
To prevent exploitation, we will prevent new Accounts from being able to Gift enlistment crystals. We will also be taking action on those who are using 3rd Party Sellers, Bots and other farms to gift themselves mass amounts of Enlistment Crystals. Lastly, we will be adding an expiration timer to Enlistment Crystals. All unopened Enlistment Crystals will expire on Oct 18 @ 17:00 UTC. For more information, please see this post:
https://forums.playcontestofchampions.com/en/discussion/346104/updates-to-enlistment-gifting-event
September Event: Gladiator's Gauntlet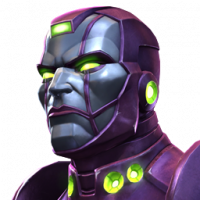 MCOC Team
Posts: 460
Administrator∙Moderator ›
On the planet Strontia, young Strontian men and women would train and compete for the title of Gladiator. Now the Grandmaster has taken one of those toughest trials and created his own to test the resolve of The Battlerealm's greatest Champions. Behold: The Gladiator's Gauntlet! Fight your way through all 9 tiers of this grueling Gauntlet and become part of an Empire!
Start Date:
Sept 6 2023 @ 17:00 UTC
End Date:
Oct 4, 2023 @ 17:00 UTC
Event Format
Collect Strontian Crests from a the Gladiator's Gauntlet Solo Event and spend them to enter Special Gladiator's Gauntlet Quests

Gauntlets are a Series of Quests with escalating difficulty (Tiers 1-8 and Gladiator Tier)

Quests in Tier 1-8 have a single path of 4 encounters

Gladiator Tier has a Single encounter with Gladiator

Complete any Quest to unlock the next tier up

Gladiator Tier Requires special Requirements to be fulfilled to get rewards

There's a total of 34 Keys to collect and use!

Earn Strontian Crests (Entry Items)
You can earn up to 31 Keys from the Gladiator's Guantlet Solo Event, as well as 3 keys we'll send you in the mail on Sept 6, 2023.
How to Get Points
Earn points by Completing Gladiator Gauntlet Quests, or by winning fights using Mutant Champions in Arenas.
Completing any tier of the Gladiator's Gauntlet Side Quest will give you enough points to claim the next Crest, but if you don't complete it, you can earn points in the Arena to claim the next Crest.
These rewards are time-locked and will become available daily.
Gladiator's Gauntlet Quest and Solo Objectives
The Gladiator's Gauntlet quests are series of quests that escalate in difficulty from Tiers 1-9. As you complete each quest, you unlock the next Tier, increasing the difficulty as you move up.
Each Quest has a single path of just 4 fights, until you get to Gladiator Tier, which has just a single fight, the mighty Gladiator!
Tiers 1-8 contain Quest rewards (remember that you can get these rewards multiple times), while Gladiator Tier (Tier 9) does not.
There's also rewards in objectives for all tiers! You'll get credit for the Tier you complete, and all of the difficulty levels below it. Objectives are chained, so you'll need to complete a tier 25 times to claim all of the rewards from the Objective chain.
Objectives are locked to your Progression Level, so even if you're a Cavalier completing Tier 8, you'll only earn rewards for the Shi'ar's Finest" Objective Chain. That said, any Summoners that can make it to Gladiator Tier (Tier 9) can claim rewards from the "I Am an Empire" Objective Chain.
Please note that while Tiers 1-8 require Strontian Crests to enter, Gladiator Tier (Tier 9) does not! So you don't need to worry about missing out on rewards just to claim the Tier 9 Objective Rewards.
Tiers 1-4 will be available at release for all Summoners. Those who want to progress as quickly as possible will want to start at Tier 4 right away.
Enlarge by Clicking Here
Mutant Uprising Solo Objectives
Complete Mutant Uprising Solo Objectives to collect "Capes Only" Crystal Shards and ISO-8!
Enlarge by Clicking Here
Capes Only Crystals
Use your Capes Only crystal shards to open Crystals with these caped Champions! You'll also find Special Collectors Crystals available for 100 units that contain 2-Star versions of these Champs!
Black Widow (Claire Voyant)
Captain Britain
Doctor Doom
Doctor Strange
Doctor Voodoo
Emma Frost
Magneto (House Of X)
Mister Sinister
Mole Man
Scarlet Witch
Sentry
Sorcerer Supreme
Storm (Pyramid X)
Stryfe
Valkyrie
Vision (Aarkus)
Void
Guillotine
Guillotine 2099
Iron Man (Infamous)
Magneto
Mephisto
Moon Knight
Ms. Marvel (Kamala Khan)
Mysterio
Odin
Symbiote Supreme
The Hood
Thor
Thor (Jane Foster)
Vision (Age of Ultron)
Wiccan
Spider-Man (Supreme)
Gorr the God Butcher
Hyperion
Adam Warlock
Post edited by Kabam Miike on