**UPDATES TO ENLISTMENT GIFTING EVENT:**
To prevent exploitation, we will prevent new Accounts from being able to Gift enlistment crystals. We will also be taking action on those who are using 3rd Party Sellers, Bots and other farms to gift themselves mass amounts of Enlistment Crystals. Lastly, we will be adding an expiration timer to Enlistment Crystals. All unopened Enlistment Crystals will expire on Oct 18 @ 17:00 UTC. For more information, please see this post:
https://forums.playcontestofchampions.com/en/discussion/346104/updates-to-enlistment-gifting-event
Updates to Enlistment Gifting Event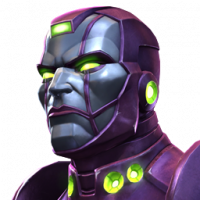 MCOC Team
Posts: 460
Administrator∙Moderator ›
Summoners,

In order to curb some exploitative behaviour that we have discovered, we will adding a restriction to the Enlistment Gifting event. Only accounts started before 21:00 UTC (2pm PT) today will be able to claim the Gifting Badge and gift their Friends and Alliance Mates with Enlistment Crystals.

Additionally, we are aware of and are investigating players that are employing 3rd Party Services, including Bots and Farms, to purchase gifts for themselves. This is not acceptable behaviour and we will take action against accounts we find doing this, including both the sender and the receivers. This could include any actions we deem necessary, including temporary or permanent suspensions.

While this event as is may not have occurred before, gifting events are not new to The Contest, and we have been explicit with how we handle these situations in the past.

Lastly, please note that we will add an expiration timer to these Crystals. Enlistment Crystals will expire on October 18 @ 17:00 UTC (10 am PT), so don't hoard them!