Due to issue with the "Not Another Anime Reference" Solo Event, we will be disabling the event for the time being. We will return the event at a future date when the issues have been resolved. We apologize for the inconvenience.
**BANQUET EVENT PSA**
To fully participate in the upcoming Banquet's Alliance Event you will need to be in your alliance for 14 days prior to the event's start date on December 20th. That means, stay in your alliance from December 6th onwards to enjoy all there is to offer in the Banquet event.
Introducing, something new - Carina's Trial: 7 for 7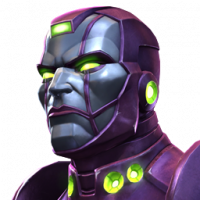 MCOC Team
Posts: 473
Administrator∙Moderator ›
In October we are trying something new with a novel challenge from Carina.

A number of designers were discussing how much fun new account challenges are, and we brainstormed some ideas that could infuse some of that feeling into the game without actually requiring a new account.

Carina's Trial: 7 for 7 represents one of those ideas. It will challenge players to complete every quest in Act 7 using only 7 star champions. The idea is that players who want to undertake the challenge will have to make do with what they have as they expand their 7-Star roster, often lacking ideal counters and top meta Champions. We are hoping it will feel similar to trying to work your way through Act 6 on a new account.

It's a new concept for us, and so we wanted to be cautious about how it was implemented. As a result, the rewards were deliberately tuned to not feel mandatory. It's a challenge for those Summoners who will enjoy the challenge, but it's something that can be safely skipped for those who aren't interested. This is by design.

Complete all objectives to earn a total of 18,000x 7-Star Shards, 5,000x Titan Crystal Shards, 3,000,000x Gold and an Emote.

This content is permanent and can be completed for rewards one time! It will be releasing with the new content on October 4th!

Please let us know what you think! Additionally, if you have any similar ideas for challenges, please let us know and we will consider them for future content!

Edit for clarity: You have to do all the quests in order and, as with the other Carina's act challenges, you cannot use the choice node.
Post edited by Kabam Jax on