Summoners, due to a technical issue, this week's series of Alliance Quests will be cancelled at 4pm PT. There will not be any Rewards for this series. The next series of Alliance Quests will start on April 18 at 12pm PT. We will be assessing the impact on Alliances and compensating accordingly, as well as returning Alliance Tickets.
Agent Venom not shrugging off dormamu regen [Not A Bug]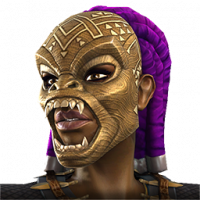 Ubersoul
Posts: 48
★
Been testing out agent venom in 5.3.5 where the first fight is dormammu and he does NOT shrug off degen at all. I tested it by constantly just using dexterity versus his attacks and for about 15 consecutive degens he did not shrug it off. And don't give me that **** "it's a chance" reply. It's a 70% to shrug off not 5%
Post edited by Kabam Wolf on
This discussion has been closed.