**BANQUET EVENT PSA**
To fully participate in the upcoming Banquet's Alliance Event you will need to be in your alliance for 14 days prior to the event's start date on December 20th. That means, stay in your alliance from December 6th onwards to enjoy all there is to offer in the Banquet event.
**Not Another Anime Reference Solo Event Returning**
This solo event has been fixed and will appear in game again on December 10th and will run through the 17th.
Reminder: This event is available to Paragon+ Summoners
INCOMING BUG FIX:

We'll fixing an issue with the Side Quests where all difficulties had the same Selector rewards.

We've fixed the Selectors in Threat Levels 4, 3, 2 and 1 to no longer contain rewards for Progression levels above the target audience.

Threat Level 4 rewards cap out at Thronebreaker
Threat Level 3 caps out at Cavalier
Threat Level 2 caps out at Uncollected
And Threat Level 1 has rewards for Proven
AW Season 45 Changelog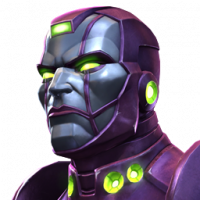 MCOC Team
Posts: 475
Administrator∙Moderator ›
Foreword
Welcome back to another season of Alliance War! There aren't many changes tee'd up for Season 45, but there are a few matchmaking tweaks we want to introduce to ensure repeat matches happen less often within a given season. Outside of that, we have bigger changes planned for the next season, so stay tuned for that. Untill then, here's what is shaking for Season 45. 
Timeline
Wednesday, October 25th
Wednesday, November 8th
Matchmaker Changes
After doing some investigation to figure out why some Alliances were getting consistent rematches with the same Alliances in Higher Tiers, we have made some adjustments to help avoid these matches from occurring. Now players should see some variations in their season matches at higher tiers rather than being put in front of familiar faces all the time. This will go into effect during Off-Season. 
Bans
Expert:
Blacklist - Titania, Hulk
Whitelist - Ghost, Kingpin
Challenger:
Blacklist - Human Torch
Whitelist - Ghost