**BANQUET EVENT PSA**
To fully participate in the upcoming Banquet's Alliance Event you will need to be in your alliance for 14 days prior to the event's start date on December 20th. That means, stay in your alliance from December 6th onwards to enjoy all there is to offer in the Banquet event.
**Not Another Anime Reference Solo Event Returning**
This solo event has been fixed and will appear in game again on December 10th and will run through the 17th.
Reminder: This event is available to Paragon+ Summoners
INCOMING BUG FIX:

We'll fixing an issue with the Side Quests where all difficulties had the same Selector rewards.

We've fixed the Selectors in Threat Levels 4, 3, 2 and 1 to no longer contain rewards for Progression levels above the target audience.

Threat Level 4 rewards cap out at Thronebreaker
Threat Level 3 caps out at Cavalier
Threat Level 2 caps out at Uncollected
And Threat Level 1 has rewards for Proven
Let's Chat About Defender AI - Current state, behind the scenes, upcoming changes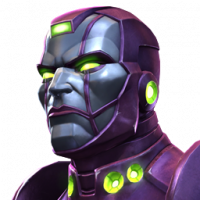 MCOC Team
Posts: 475
Administrator∙Moderator ›
Hello Summoners,

There's been a lot of discussion in the community about our AI recently, so we wanted to take this opportunity to shed some light on how our AI system works and what we've been working on behind the scenes. We hope this post will provide transparency, insight and an understanding of the situation and how our team is handling AI issues.
Current State of AI
Our AI works on a years-old system of randomly weighted actions. The AI looks at its current state, looks at all the actions it could perform, and then randomly rolls to decide which action it will take. This is not a learning AI, it is simply rolling dice.

There's some advantages to this system - you don't want a fighting game to be perfectly predictable after all. However, it also means that the AI can sometimes be frustrating to play against when the RNG ends up working against you. Our goal has always been to maintain a fair and challenging AI system.
Why does it feel different now?
To be clear, we haven't been actively changing the game's AI code; we are not using it as a tool to annoy Summoners or to drive item usage. However, the Contest also isn't the same game it was years ago either. Our game is a complicated web of interactions. The increasing complexity of Champion kits, Nodes, a number of engine upgrades, etc. all add up but result in us operating without a clear history of "AI changes" we can look into when Summoners raise frustrations about the AI.
Tech Improvements Incoming
The engineering team has been working behind the scenes to address these concerns for a long time.

One of the things we discovered while digging into the input issues and standing up our fight replay tech was that some of the replays we were getting back weren't always consistent. Digging into this more, we found that some of the AI randomness was occurring in the game engine layer, in code we didn't write, can't change, and doesn't yield the same results every time.

Our first step is moving the randomness that's currently happening on the engine layer over to our own code, so we can get 100% consistent fight replays. The goal here is that the game should play the same as it does now, but we'll be able to more consistently reproduce player reported issues. From there we'll be able to better investigate the things that are frustrating Summoners and make fixes where we deem necessary. Ultimately, this will give us more control over our systems and will allow us to help improve the Summoner experience moving forward.

Making changes to the AI can be a precarious process; Summoners have grown accustomed to elements of the AI and rely on strategies to counter them. We are trying to avoid invalidating existing Summoner strategies by making small incremental changes.
Intentions, Timeline and Expectations
You will encounter our new AI system in November. We are confident that we have successfully recreated the current system and that this transition will be relatively seamless.

To reiterate, the goal at this stage is for you all to experience no discernible changes. By transitioning over to this new system, we will have more thorough control in identifying, replicating and triaging potential bugs in the AI system.

How confident are we? We enabled the new AI system on the CCP Beta Server for a week before telling them. Sneaky, sneaky. The intention was to see if there were any noticeable or noteworthy changes they encountered - essentially, did it feel any different? After discussions with the CCP, we are confident that we are ready to implement this system game-wide.