**BANQUET EVENT PSA**
To fully participate in the upcoming Banquet's Alliance Event you will need to be in your alliance for 14 days prior to the event's start date on December 20th. That means, stay in your alliance from December 6th onwards to enjoy all there is to offer in the Banquet event.
**Not Another Anime Reference Solo Event Returning**
This solo event has been fixed and will appear in game again on December 10th and will run through the 17th.
Reminder: This event is available to Paragon+ Summoners
INCOMING BUG FIX:

We'll fixing an issue with the Side Quests where all difficulties had the same Selector rewards.

We've fixed the Selectors in Threat Levels 4, 3, 2 and 1 to no longer contain rewards for Progression levels above the target audience.

Threat Level 4 rewards cap out at Thronebreaker
Threat Level 3 caps out at Cavalier
Threat Level 2 caps out at Uncollected
And Threat Level 1 has rewards for Proven
Happy November - Are you ready to SPELUNK in the "Dark Catacombs"?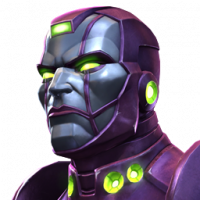 MCOC Team
Posts: 475
Administrator∙Moderator ›
Dark Catacombs
The Grandmaster has found a path to victory in his "friendly" battle against his brother, The Collector. The Necropolis has opened up paths to strange Catacombs, filled with dangers AND TREASURE! Grandmaster isn't much for getting his hands dirty, so he's looking to hire those who can work in secret and shadows to embark on a harrowing adventure! You'll need help to descend these depths, so gather some SPELUNKING ROPE this month and you'll get access to weekly Dark Catacombs Side-Quests!
Start: 11/08/2023 @ 18:00 UTC
End: 12/06/2023 @ 18:00 UTC
Format
New Quest weekly
5 Difficulties (Threat levels 1-5)
1 Path with 3 looping optional paths
1 Boss fight per entry, plus 1 additional fight per optional path you take (up to 3 max)
Reward nodes grant randomized rewards
Rewards are reset and can be obtained each time you enter
TLDR
Collect Spelunking Ropes from Grave Robber Solo Event (7 available at the beginning of each week)
Use your Spelunking Rope to access the Dark Catacombs Side Quest
Win fights, complete paths, collect rewards
Collect a "Shiny Shovel" from your Weekly Solo Objectives to access and complete an additional path and collect your "Cache of Treasures"
Exchange your Cache of Treasures for a premium item in a Catacombs Store Tab
Collect Crystal Shards from the 7-Day Log-in Calendar
Earn additional rewards from Solo Objectives and Solo Events
7-Day, Recurring Log-In Calendar
Note: This is a cumulative calendar and will reset if you miss a day - be vigilant!
Path Reward Details
Solo Events
Grave Robber Solo Event
Big Spender Solo Event
Earn one point for every gold spent!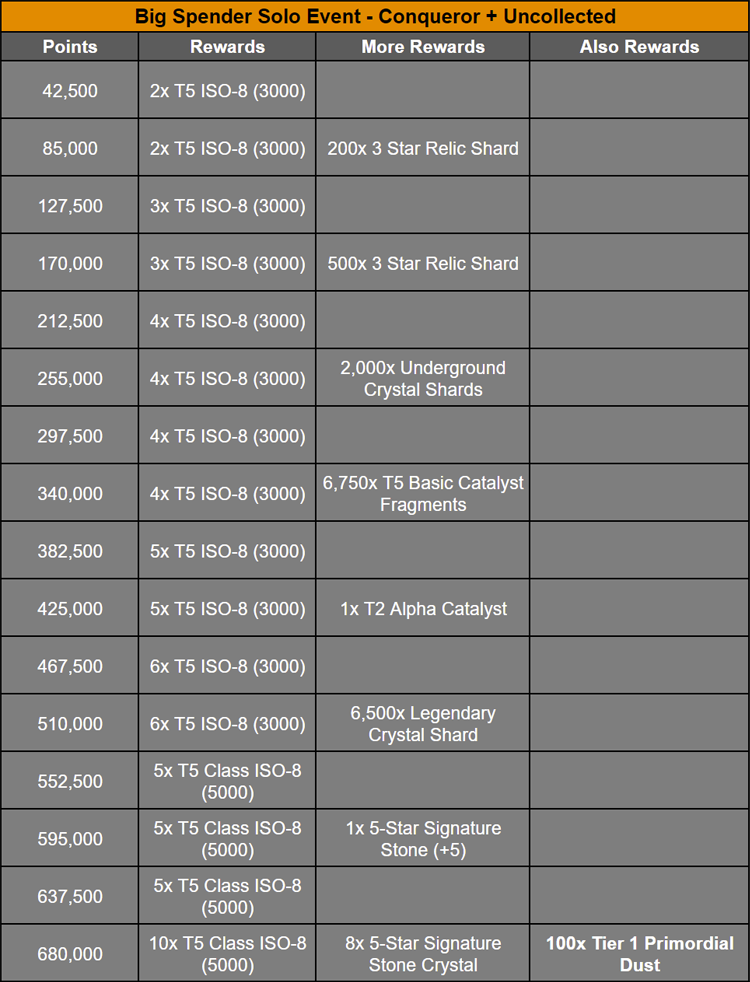 Weekly Solo Objectives
Click/tap tables to expand!
Catacomb Store
Trade your Cache of Treasures for one item from your progression's Catacomb Store.
Purchase limit of one, each!
Underground Crystal
Open Underground Crystals for a chance to add the following Champions to your roster!
Nick Fury, Domino, Absorbing Man, Kingpin, Mole Man, Red Guardian, Kindred, Hit-Monkey, Doctor Voodoo, Proxima Midnight, Gambit, Toad, Vulture, The Hood, Spider-Man 2099, King Groot, Black Widow, Dragon Man, Super-Skrull, Old Man Logan, Howard the Duck, Joe Fixit, Black Cat, Scorpion, Deadpool (X-Force), Yondu, Red Skull, Agent Venom, Loki, Captain America (WWII), Rhino
Edit:
Added the forgotten details for the Cache of Treasures store! (where Paragons will find the customary Awakening Gem)
Post edited by Kabam Jax on