**BANQUET EVENT PSA**
To fully participate in the upcoming Banquet's Alliance Event you will need to be in your alliance for 14 days prior to the event's start date on December 20th. That means, stay in your alliance from December 6th onwards to enjoy all there is to offer in the Banquet event.
**Not Another Anime Reference Solo Event Returning**
This solo event has been fixed and will appear in game again on December 10th and will run through the 17th.
Reminder: This event is available to Paragon+ Summoners
INCOMING BUG FIX:

We'll fixing an issue with the Side Quests where all difficulties had the same Selector rewards.

We've fixed the Selectors in Threat Levels 4, 3, 2 and 1 to no longer contain rewards for Progression levels above the target audience.

Threat Level 4 rewards cap out at Thronebreaker
Threat Level 3 caps out at Cavalier
Threat Level 2 caps out at Uncollected
And Threat Level 1 has rewards for Proven
The War on Cheaters Update - November 2023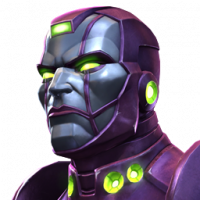 MCOC Team
Posts: 475
Administrator∙Moderator ›
Everest Content
In the lead up to the release of our first piece of long-form Everest content in over three years, the anti-cheat team has been busily improving our mod detection algorithms, using Eternity of Pain and Abyss as testing grounds. We have made substantial progress. Earlier today we banned over 2000 accounts that were detected cheating in these modes by these new systems. The lessons we learned are being applied to Necropolis, which is the first piece of content we have ever released with an integrated anti-cheat program in place before launch. Be warned, modding in Necropolis will be met with an immediate permanent ban, regardless of your account's history of fair play, or any other factor.
Moreover, those wanting to compete for the limited vanity prizes that will be awarded for the first ten Summoners brave enough to explore the content will be required to record their runs and post them to YouTube or another streaming service for us to review at our discretion. For more information about this, you can tune into our live stream this Friday, November 3rd on Twitch.
Battlegrounds
There has been an uptick in cheating this Battlegrounds season. After reviewing the data, we believe this is the result of us opening the mode up to Summoners at the Conqueror progression milestone, which makes it easier for cheaters to spin up new accounts and get them into the Battlegrounds. To address this, we have started running our detection algorithms more frequently, hoping that these accounts will negatively impact fewer Summoners before they are banned. We will continue to monitor as the season progresses.
….And on point farming
Summoners have requested more specific information about the point farming behaviour we have prohibited in Battlegrounds, so we will try to be as explicit as possible. The behaviour we are looking to prevent is deliberately losing matches to avoid progressing in the Victory Track in order to farm accounts at lower rungs on the Victory Track ladder. There has been substantial skepticism that we can identify this behaviour from other forms of losing. Of course, we do not have a crystal ball. What we do however have is data on millions of Battlegrounds matches played every season, and the play pattern of Summoners engaging in this behaviour is unique.
Things that won't get your account flagged for action include:
Being bad at the mode and losing a lot

Going on long winning or losing streaks

Legitimately getting stuck in a Victory Track rank, regardless of the pattern of wins and losses

Queuing into matches and setting your phone down in order to complete the bi-daily objectives (we do not necessarily endorse this behaviour but are not investigating it at this time)

Queuing into matches and setting your phone down in order to farm event points while losing, unless it is done strategically to avoid progressing (we do not necessarily endorse this behaviour but are not investigating it at this time)

Farming event points in a similar way in the Gladiator's Circuit (we do not necessarily endorse this behaviour but are not investigating it at this time)

Deliberately losing one or two matches on occasion to manage Elder's Mark caps or otherwise optimize your play

Things that won't evade our detection algorithms:
Entering matches with weaker decks

Pausing to make your losing matches longer

Trying to fake effort while trying to lose

Any other form of manipulating your fight data

Losing a bunch of matches in a row at zero medals in order to skew the data

Losing with medals below the threshold that would actually promote you

To this point we have only taken action against a handful of accounts. As more data comes in, we intend to widen the net. The team is hand reviewing data this season to make sure we get it right, we guarantee no innocent Summoners will be caught in the net. If you are not engaging in the specific behaviour spelled out above, you have no need for concern.
Finally, as with any game on earth, there is an arbiter who sets the rules of fair play. In the case of Marvel Contest of Champions, that arbiter is us. Just because a system in the game allows a player to engage in a behaviour, it does not mean it is within the bounds of the rules we have set. The same
Code of Conduct and Standards
that allowed us to address Alliance War shelling and Gladiator's Circuit win trading empower us to address this point farming issue. Our team intends to continue to address fair play issues, whether they directly involve modding or not.