Unique Synergies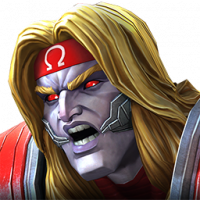 BitterSteel
Posts: 2,895
★★★★★

I think there needs to be a conversation about unique synergies. Before I start I'd just like to say, I get that people have different opinions and I'm happy for everyone to share theirs but let's just keep this civil so it doesn't get shut down and we can have a conversation about them.

Personally I don't mind them, to a certain extent. When we first saw them I thought 'oh these look interesting, I like that they give a champ a bit of an edge, nothing too huge but just extra uses for them.'

However now, I can see that they are 1) being used to buff indirectly sub-par champions and 2) being used to drive sales for new champions. Some people won't care if this is happening but I just want to add my opinion and see what people think. Maybe I'll change my mind.

1) just look at some of the unique synergies that are out there that take a new champion, then give them a synergy with a bit of a worse, old champion which makes the worse champion either ok, actually pretty good or even great, in a way avoiding buffing them directly.

Green goblin- increases potency of Iron patriot's arc overload. Nothing groundbreaking but extra health, power and armour; that wouldn't be too bad a buff to have

Modok- increases the amount of poison that abomination deals. Again, not gonna help you beat LoL, but when a synergy takes the only thing that champion has got going for them and improves it, that could just be done in a buff. Why is it that you have to have a new champion for it?

Spider man stark enhanced- more powerful specials for iron man and hulk buster, more effective fury for Kamalha khan and extra evade stacks for miles morales


So far these have been pretty basic synergies, Just improving a small thing about the champion. If it had been left like this in future I would have been slightly suspicious about why they weren't getting buffs but I would have been ok with it. However then came:

Medusa- makes black bolt's provocation crit and fury on attack permanent. This completely reworks black bolt's worthiness as a champ. It takes his fury that lasts a few seconds and makes it into a long fight's beast mode. Now it means that black bolt has been buffed, but as long as you have medusa.

Hela- makes Loki's 7% health steal work regardless of opponent health when cursed. I.e. can destroy high health opponent champs in minutes. Make Loki, a pretty average character shine with hela as his partner

Killmonger- this one was the final straw for me, it added a completely unrelated ability to winter soldier, one that would take him from decent, to a bloody good champ. Every other unique synergy (that I can think of) takes something about the champion's abilities and improves it. But with winter soldier, extra attack with each hit of combo metre; a mini star Lord. This isn't just a synergy, this is a straight up game changer. It requires you to have killmonger to make him suitable in hard content. I think a lot of us will have seen Verygoot one shot Red hulk in the labyrinth with 6* winter soldier with KM synergy. When a synergy has that much impact on a champ, something is wrong to me. And not only that, but this synergy gets better the higher star of killmonger you have. It goes from like 2% per hit to 5% per hit. Not the higher star of winter soldier you have, which would make sense because the attack bonus is added to him. You could have a 5% increase for 3* winter soldier as long as you get the better rarity of killmonger.


2) This is a good Segway onto the next thing, these synergies help drive arena and crystal sales. Killmonger synergy is optimal when you get 5* killmonger, and it's good but not as hard hitting when you have a 3*. All of this means that if you pulled a nice shiny 6* winter soldier, you'll need killmonger and his synergies to really unleash his potential. If you pull a 6* winter soldier most people would probably prefer to pull a killmonger 5* to get his combo attack increase than pull a 6* winter soldier again to awaken him. His synergy is his new sig ability.

If you've got void, then you'd better try and get killmonger in this next arena so you can make your almost god tier void even better by giving him regen! I mean, just forget that synergies are basically links and relationships in the marvel universe but just forget that void and killmonger never really interact in the comics and the whole reason of making void have a synergy with killmonger is to make more people want to get one of them to improve the other.

And if you have a black bolt, oh look it's Medusa's arena. You'd better hurry up and make sure you get her so that black bolt will be really cool now!

Pulled a 6* Loki? It's ok, he's not weak and only good against certain characters. Now you can make him destroy high health champs when you spend units to refresh champs in the hela arena!

Don't think I'm just talking about arena. Remember how the featured 5* crystal is gone? Yeah, me too. That means if you want a shiny new Killmonger or Medusa to make your mediocre champs good, but you can't grind the arena you'll have to fork over 10s of 1,000s units for FGMCs just for a chance to get a 3* version. Oh well, 2% increase attack is still pretty good when you get landed with a bunch of 3*.

Not to mention the 'Holy Trinity' where blade's danger sense is extended to a large number of champions with spark and GR. (don't worry, not another nerf blade). I just don't want kabam to make all these awesome synergies and then realise, "wait we've made something game-breaking and we'll have to nerf this synergy between winter soldier and killmonger because it's the new Scarlet witch." And I know that that isn't the case, it's an example as we have star lord who's still better than WS with KM. but my point is, how far will this go? When will kabam make a synergy that overpowers a champion so much that everyone goes for the featured grand master crystals and grinds in the 5* featured, 4* featured etc because of the hype... and then needs to nerf it.

It's a slippery slope, kabam are so intent on driving profits but I hope they're keeping one eye on the road and the possible nerf-crash waiting to happen.