**Known AQ Bug**
We are aware that some alliances encountered a bug during this last AQ that would not allow them to start maps on certain days. We know this has impacted your rewards.
We have been looking into the cause of the problem and once we have resolved it we will explore how to make things right for the impacted alliances. We will provide any additional communication in
Summoners! The Tiered Unit Offers available during the Summoner Celebration sale are only available until July 4th at 10 AM PT, unlike the Unit Store offers, which are available until July 5th at 10 AM PT. We apologize for any inconvenience or confusion this may cause.
Just finished the last Chaos Rift I'm going to get to do before they're gone...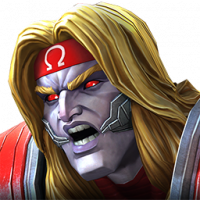 Evangelionlovr
Posts: 452
★★★
And honestly? Completely underwhelming. I spent far more units on energy than I have in past events and in the upper tiers of the rifts I got nothing but 1* boxes. I think my total was 3k 5* shards, 1500 4* shards and then a bunch of useless **** from the beginner and normal rifts. I feel like the chance of getting something good was far too low for the attempts that were available to us, and the energy costs for this on top of HAVING to 100% a much longer event quest than in the past was not worth the payout.

In the future I really hope Kabam doesn't do another single RNG based event like this again, it makes your resource spending feel like a complete waste.