As we continue to work to address ongoing issues regarding Parry and Evade, we will be extending the Week 4 Quest of the Summer of Pain and its Solo Objectives by 1 week to better allow you to complete this content. This will not result in next week's content being delayed.
5-Star Featured Hero Crystal - May 8th 2018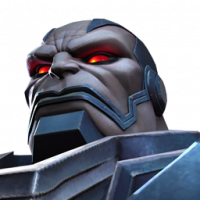 Kabam Miike
Posts: 6,764
Administrator ›
Greetings Summoners,

The availability of the current 5-Star Featured Hero Crystal is coming to an end, and the next one will be available on May 8th. Here are the Champions that it contains:

Bishop
Sabertooth
Rogue
Gambit
Killmonger
Elektra
Crossbones
Moonknight
Hulk (Ragnarok)
Luke Cage
Yellowjacket
Red Hulk
Guillotine
Morningstar
Iron Fist
Hood
Proxima Midnight
Superior Iron Man
Angela
Ms Marvel (Kamala Khan)
Sentinel
Hulkbuster
Rocket Raccoon
Yondu

This is a brand new crystal that will be replacing the current Featured 5-Star Hero Crystal. Any crystals that you have already purchased or received will not be updated to this new crystal.