Revisiting offers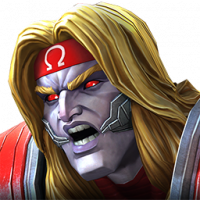 BitterSteel
Posts: 2,895
★★★★★
The game has progressed a lot in the last 3 years, a hell of a lot but one thing that has stayed the same is the "open ten three stars get a 4* offer for 2500 units" and the "open ten two stars and get a 3* offer for 400 units".

These offers are hopelessly outdated, at least for players further on in the game and those who are uncollected. It makes the least sense for uncollected players because just look at the 3* offer. 400 units for a 3* crystal, why would I buy that when I could go to the vault and buy 2 GMC which guarantee a 3* champ with a chance at a 4* or 5*? It's silly that the offer still pops up for uncollected players.

The 4* crystal is harder to gauge but still outdated, there's no direct comparison to make but looking at the legendary crystals offered every so often, I believe they are $40 (correct me if I'm wrong) which will get you around 1000 units. So why pay 2500 units ($80) for a 4* champ when you could pay half the price for a guaranteed 4* champ with a chance for a 5* at $40?

It just makes no sense. So here's what I'm suggesting, and anyone else with ideas are welcome to add them, scrap these offers for uncollected players and add a new system. On the tenth 2* champion offer a 400 unit pack for 3 or 4 GMC and on the tenth 3* champion add a 2500 unit pack for two legendary crystals.

Nobody in the end game would buy the current offers, I wouldn't pay $5 for a 4* I could choose now let alone $80 for a random one. Also while we're at it, please get rid of the rank up packs. 1400 units for a rank 1 4* is ridiculous. I'm pretty confident in guessing that the majority of purchases of those are by accident.