6-Star Featured Hero Crystal - June 19th 2018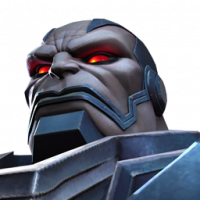 Kabam Miike
Posts: 6,638
Administrator ›
Summoners!

The availability of the current 6-Star Featured Hero Crystal is coming to an end, and the next one will be available on June 19th. Here are the Champions that it contains:

Sabretooth
Nightcrawler
Deadpool (X-Force)
Domino
Elektra
Karnak
Daredevil (Classic)
Winter Solider
Captain America (Infinity War)
Red Hulk
Yellowjacket
Captain America (WWII)
Thor (Jane Foster)
The Hood
Mordo
Loki
Proxima Midnight
Corvus Glave
Gamora
Black Bolt
Iron Man (Infinity War)
Rocket Raccoon
Doctor Octopus
Punisher 2099

This is a brand new crystal that will be replacing the current Featured 6-Star Hero Crystal. Any crystals that you have already purchased or received will not be updated to this new crystal.