Red Skull Meh? Honestly not upset... but here's a few ways I would tweek him.
StarDarts_89
Posts: 419
★★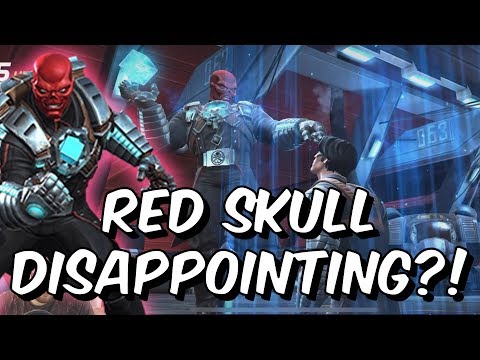 https://www.youtube.com/watch?v=7h8ZXlnfh04
From this vid, Red Skull "appears" to be a bit meh. I'm honestly not upset though, because I can see Kabam "tried". Like with Sentry's initial release, (before his buff), I felt like Kabam didn't give a [removed by moderation], & they just tossed Sentry into the bin because the employees wanted some time off to throw a weekend pool party. Here, I can see they tried. He animations awesome, with amazing Block Proficiency, Power Drain & a bit of Shock. But from first initial impressions, here is a few ways I would tweek him.
1: Make him Defender Based, by making his Teserect animation like an Aura, you taking Energy Damage when within range. He's already 'kind of" like this, but you actually have to strike his block, & this is very easy to avoid doing. He's a Villain, so Blades around to keep him balanced, & Red Hulk has very strong Energy Resistance as well.
2: Enhance his Shock. This is an easy one. Maybe double the Shock Damage, & I think Red Skull would go from Meh to Great.
3: Allow him to have a 6 second power lock, after Power Draining via spending his Armor Ups. This was originally Seatins idea, & its not bad. You could keep a Permanent Power-Lock with him, but only via skill & careful playing. Kind of like Dr. Octopus.
Anyways, just my thoughts. Any of yours?
Post edited by Kabam Porkchop on