Hydra Adaptoid Counters: Definitive list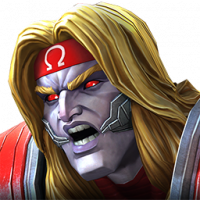 BitterSteel
Posts: 2,895
★★★★★

With all the talk about one certain Boss in this months event I thought I'd gather all the information I've seen on the forums, also asked alliance mates to find some on reddit since I'm not on there. This is what I've found, I've grouped each counter by how they exploit the abilities (I guess you could call it a loophole):

-Robots, champs who can specially shut down robots or have advantages over robots.

-Buff excess, champs who benefit or can exploit large amounts of buffs. Most rely on mystic dispersion.

-Large damage, champs who can just out damage the regen and finish the fight quickly meaning less specials to evade, or can deal the last 25% in one go therefore missing out the

-other

Here we go:

Robot:
-medusa: armour shatter can shut down abilities and power gain, including regen and unblockable under 25%
-nebula: charges can shut down abilities, including unstoppable, power gain, regen and under 25% health unblockable
-stark spidey: has a lot of damage with poise charges that will outdamage regen, shock does double damage against robots so L2 is a good one here.

Buff excess
-Morningstar: one L2 can do incredible damage, MD will get you to another sp2 in no time. One sp2 can skip out the last 25% and miss out the unblockable.
-magik: one l3 can do incredible damage , MD will get you back to sp3 easily. One sp3 can do the same as Morningstars sp2 and skip the last 25%
-voodoo: while he can't poison, there's still power control he can use. Not the best option at all, but still an option.
-Ronan: any star will do, permanent stun and if you have pacify/petrify I always forget which but one can stop the regen and the other reduces power and health gained. Both useful.
-ghost rider: can do a MLLLL MLLLM Sp1, Sp3 rotation to maximise buff reduction with fate seal. Throw in a heavy if you need to heal. All the buffs fuel MD if you have it.
-Loki: start the fight with two combos and a sp1 and steal all the buffs, you'll have an sp3 with MD and then curse to gain all future buffs. MD will fuel you to get sp3 over and over again.
-mordo: use an sp2 and soul barb will do tons of damage with all the buffs and also reduce regen
-hood: sp2 rotation will fate seal permanently if you have MD


Large Damage
-star lord: large enough combo, if you can hold it, will counter the health regen. One sp2/3 will be able to skip the 25%.
-Corvus Glaive: can do the fight in under 30 hits, I've seen one do it in under 30 seconds, personally done it less than 40 seconds. He does true damage, ignoring all physical resistance. His special 2 can easily take off the last 25% damage so you don't need to worry about unblockable. He also can have a 25% reduction of ability accuracy.
-Hyperion: L3, heavy heavy heavy. Power gain and L2. Enough said.
-ghost: massive damage, phase to avoid specials, used right would get him down in less than 30 hits.

Other
-Guillotene: reverse the healing and take him down, can be any star level but clearly higher the better
-void: same as guillotene. Reverse healing.
- Proxima Mightnight: heal block on L1 and stun on L2/3 can help a lot. Complete the missions for more damage. Her ability accuracy affects the unblockable attacks so she can block under 25%.
-Blade: with villain synergy can shut down the adaptoid. No bleed, but AAR and increased damage
-Doc Ock: get permanent power lock and all you've got to deal with is unblockable under 25%
-sentinel: spamming l1 after max analysis will get heal block the entire time. Otherwise, use L2 for incinerate damage.
-Luke cage: spam l1 for stun lock. If you don't stun, it's fine you don't need to worry about an l3 this fight. If you slip up, his dupe ability will save you.
-quake: normal quake heavy charge method will work, if adaptoid gets a bar of power you can just bait and continue.



If anyone else has any other helpful suggestions please add them. This is not a thread to argue it should or shouldn't be nerfed. So if you feel like having that argument please find a different thread. This is only to help those who feel they don't have options, or those who don't know how to beat the boss.