Ebony Maw Rebalance Information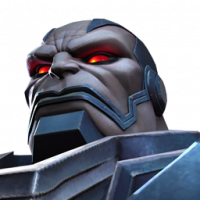 Kabam Miike
Posts: 7,727
Administrator∙Moderator ›
IF YOU HAVE NOT, READ THIS POST FIRST.
Summary:
Ebony Maw was designed to be a Defensive Champion, built to excel in Alliance War Defense and specifically counter some of the most dominant Attacking Champions in this mode. On Offense, Ebony Maw was supposed to focus on needing to ramp up over multiple fights to be more useful. We will be making a number of changes to give him more use in Attack, and make him a more fearsome Defender that forces opponents to respect the rules of fighting Ebony Maw.
Conclusion:
Defense:
Ebony Maw uses a building resource called "persuasion" to trigger "Falter" effects which cause the Opponent to Miss their Attacks if they don't play around the "persuasion" mechanic.

However, even with this mechanic in play, most players disregard his mechanics and power their way through Ebony Maw encounters. Below is a graph showing his overall performance on Alliance War defense across all active Defense Tactics.

Offense:
Ebony Maw sees extremely low usage in every "Attacker" focused scenario aside from a few very specific matchups.

Even though he's built as a Defensive champion, no champion should fall below our baseline and be "practically useless". To put this into perspective, Ebony Maw's damage is so low that he's currently out-damaged by many 3* Champions.

Below you will see his numbers in comparison to other Champions that we believe are also eventually in need of an update to their ability to deal damage. These include Abomination, Agent Venom, Cyclops, Daredevil, Karnak, Hulkbuster, Howard the Duck, Groot, Dormammu, and Drax.

Objective of Changes:
Ebony Maw's performance on both Attack and Defense do not fulfil the minimum baseline requirements for a "well balanced" Champion and ranks worse in many ways in comparison to Champions on the roadmap to be buffed. Maw needs to be brought up to fit in line within our baseline.
Changes:
Persistent Charge:
Change Persistent Charge (PV) mechanic to stack up to 20 from 6

PV charges gained from completing all missions increased to 5 from 1

Ramping Value:
Persuasion timer reduced to 0.5 from 0.7

Potency of Black Tongue up to 40% from 30%

Deterioration Passive timer decreased to 2 seconds from 6

Damage Output:
Degeneration effect changed to modified attack from base attack

Degeneration damage increased to 0.3 attack from 0.2 attack

Signature Ability

Changed to a % increase rather than a flat amount to increase overall damage potential.

These changes are not intended to push Ebony Maw to the top of our DPS Charts, but rather give him some offensive usage and increase his damage to a baseline level. This will also enhance his defensive viability and hopefully encourage players to "respect the Maw" on defense, since his Falter mechanic will come into play much more frequently if they don't follow his rules.
Additionally with the boost to damage, Ebony Maw will be much more dangerous on attack-enhancing nodes across all modes.
These changes will allow Ebony Maw to ramp up throughout a quest much quicker, and have him deal a lot more damage in the fights he is suited for. Additionally we expect to see his win rates rise to a respectable level in Alliance War Defense, and other modes where players encounter him.