**UPDATES TO ENLISTMENT GIFTING EVENT:**
To prevent exploitation, we will prevent new Accounts from being able to Gift enlistment crystals. We will also be taking action on those who are using 3rd Party Sellers, Bots and other farms to gift themselves mass amounts of Enlistment Crystals. Lastly, we will be adding an expiration timer to Enlistment Crystals. All unopened Enlistment Crystals will expire on Oct 18 @ 17:00 UTC. For more information, please see this post:
https://forums.playcontestofchampions.com/en/discussion/346104/updates-to-enlistment-gifting-event
Cull Obsidian Rebalance Information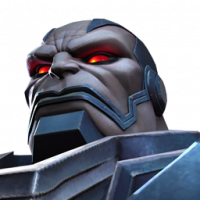 Kabam Miike
Posts: 7,948
Administrator∙Moderator ›
IF YOU HAVE NOT, READ THIS POST FIRST.
Summary:
After looking at our data across all the game modes we have determined that Cull Obsidian is out damaging every other high-damage Champion in the game. While he does have his limiting factors, once he's fully ramped up he is able to end fights before even high-level Opponents can do any meaningful damage to him. The goal of Cull's rebalance is to make tuning changes that keeps Cull Obsidian as one of the top damage dealers in-game, but with a more reasonable margin.
Conclusions:
While Cull has no Persistent Charges his damage is average, and he does take slightly above average damage, due to having to block/parry for longer. Though even in these early fights the damage he's taking isn't that much higher than other champions.

It only takes a few Persistent Charges (PVs)'s for Cull to get rolling, it's really only his 1st fight that he's "below average", so he doesn't really care about most of his ramp.

Once Cull's PV is fully ramped his damage becomes massive, and fights end so fast he only needs to parry a few times before they're over so he takes basically no damage, and is able to brute force through pretty much any matchup.

He also has a reasonably high skill impact, but without actually adding much difficulty once an ideal/efficient rotation is identified.

Cull's DMG comes from stacking multipliers, but his Armor Breaks seems to be the most important multiplier.

When we look at where his damage is coming from, we see that the further ramped up he is, the greater the % of his damage comes from Rout. This is likely due to it becoming easier to time his Rout to benefit from multiple armor breaks and his large Attack bonuses from the Thanos's Favor Buffs.

Objectives of changes:
Reduce his fully ramped DPS, but maintain Cull as a (if not the) top damage dealer in content/fights where he excels. But force a Ramped Cull to respect matchups he's not appropriate for.

Do not increase his block proficiency, but increase DPS at 0 PV so he ends early fights faster

Introduce a feeling of Burst and Lull to Cull's DPS output

Data:
This chart shows Cull, Ronin and Venom (left to right) in fights against Winter Soldier in the Realm of Legends. The Orange Triangle represents their DPS, and the Blue represents their Damage Done vs Damage Received (higher is better).
This data is representative of his DPS in the first fight of a quest, with 0 PVs
This chart features the same Champions in a fight against Hulk in the ROL. Representing a later fight in a Quest, with high or full ramp up. Note that Ronin has a Class Advantage in this matchup.
This chart shows his DPS vs the same Champions over the course of Realm of Legends, and is separated by Player's Experience Percentiles. This shows that as a player grows more skilled in the Game, the division between Cull Obsidian's DPS and the other Champions grows significantly larger.
This chart shows a Comparison of Cull's DPS vs other high damage dealing Champions throughout Act 6. This is also separated by Player Skill level, with our most skilled again having a much larger division from Summoners that take more damage.
X = Cull
Circle = Aegon
Triangle (Pointed Down) = Domino
Cross = Hyperion
Star = Ronin
Triangle (Pointed Right) = Captain America (Infinity War)
Changes:
Heavy Armor Break
Mod: -1400 -> -1130.77

Duration: 10 seconds -> 14 seconds

Chance: 50% -> 75%

Thanos's Favor Bonuses: 15% -> 5% Duration and Ability Accuracy per Charge
Sig Fury
Duration 5 -> 4 seconds

Modifier 4549.15 -> 4057.35

These changes should somewhat shorten the DPS gap between him and everyone else once he's fully ramped up, while still allowing him to remain a top attacker, and even increase his DPS in early fights before he has built up charges.