Namor Rebalance Information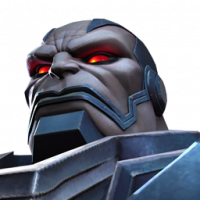 Kabam Miike
Posts: 6,597
Administrator ›
IF YOU HAVE NOT, READ THIS POST FIRST.
Summary:
Namor is a Champion with powerful Utility from his Signature Ability, high Sustainability from his on special activation regen, and high damage potential from his Special 3 Fury effects. When comparing Namors damage output and sustainability with all champions in the game he is among the best in both categories.
Conclusions:
Namor's Signature Ability provides some of the most potent utility in the game, allowing him to ignore all incoming damage and reflect it back to his Opponent.

His Damage Potential is amongst the highest DPS in the game

His regeneration is amongst the highest Regen Champions in the game as well.

Currently has one of the shortest Average Fight times

When comparing Namor to Champions like Quake or Ghost, they have a much higher skill threshold required to be as powerful as they are, while Namor's Imperius Rex is almost inevitable in a Fight.

Objective of Changes:
We will be aiming to slow down the rate in which he activates Imperious Rex.

We will be lowering his Regeneration. The intention with the Regen was to allow him to fight back against Recoil and Suicide Masteries but it's potent enough that he gains more health than he loses.

We will not be touching Namor's Signature Ability. That is a key part of why Namor was sought after by our players and a unique point for the Champion.

In Fights where his Opponent is Bleed Immune Namor should be just as potent as before.

Data:
Damage per second (DPS) in longer fights:
This graph compares the DPS for every Champion in the game across all game modes.
Namor is the blue cross.
In Realm of Legends, Namor can reach his maximum damage potential before killing his Opponent and you can see it is far beyond any other champion in the game.
Damage per second (DPS) in Shorter fights:
This is the same graph with Realm of Legends removed.
Namor comes in around the middle of the DPS charts when compared to all Champions in the game.

One reason why Namors DPS appears so much lower in shorter fights is due to the amount of overkill once he enters Imperius Rex. Usually the fight ends soon after he activates Imperious Rex, and we don't see the full potential of his damage output.

The balance changes should increase his DPS in shorter fights.

Regen Per Second (RPS):
This is the same graph as above comparing regen per second across all game modes.

Namor is represented as the blue cross.

He is among the top regen champions in the game which is far beyond the target for a Champion with damage and utility like his.

Alliance War Expert - Damage Per Second (DPS)
Namor is the highlighted square
This graph displays Namors DPS in AvA Expert. It is split into the top 10, 30, 50, 70, and 90% of players and displays their average DPS

On the far left you can see that when played at a high level Namors DPS is amongst the highest of DPS champions

Changes:
Medium attacks Chance to inflict Bleed increased from 30% to 60%

Regeneration on Special Activate decreased from 6% of missing health to 3% of missing health.

Namor will still be able to do just as much damage as before, but will be slower getting to it.