As we continue to work to address ongoing issues regarding Parry and Evade, we will be extending the Week 4 Quest of the Summer of Pain and its Solo Objectives by 1 week to better allow you to complete this content. This will not result in next week's content being delayed.
Annihilus Rebalance Information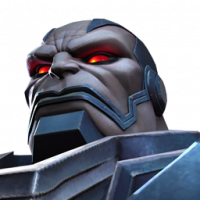 Kabam Miike
Posts: 6,764
Administrator ›
IF YOU HAVE NOT, READ THIS POST FIRST.
Summary:
When we first looked at Annihilus, we found that he's performing quite well as a Defender, but was underperforming as an Attacker. While Annihilus has some strong utility as an Attacker, we found that his Damage Potential was suffering, due to tight timing windows.
Conclusions:
From left to Right, the blue colums indicate: Total Encounters, Times Undefeated (Defender remained at the end of the War), Win Rate.


These are the Defensive Win Rates across all nodes in Alliance War on the Expert Tier.

When creating a Champion who is intended to be a strong defender these win rates are somewhere around where we would like them to be.

The 93% in Villain is quite high, however it requires a certain Defense Tactic, and his overall encounters are low compared to other potent defenders in the game.

As players gain more experience fighting Annihilus over time, these win rates will go down.

Alliance War Attack
This Graph shows Annihlus' Win Rates when used in Alliance War Attack

We've compared him to an assortment of Champions. Some included are Angela, Beast, Doctor Voodoo, Colossus, Corvus Glaive, Crossbones, and Drax.

Annihilus' win rate is amongst the lowest at 30%

Using the same Graph and the same Champions, we compared their DPS
Annihilus is amongst the lowest at 941
Intention of his Changes:
Increase his attacker potency without affecting his win rate on defense

Give Annihilus more time to capitalize on his Fury's he creates from his Special 2.

A single Special Attack from the Opponent would waste almost half of the duration. Annihlhus' play style is very aggressive and would often leave his Opponents with lots of power.

Actual Changes:
Increase the duration of the Fury he converts from his Special 2 from 12 seconds to 18 seconds.

Added a timer icon to display how long the Special 1 pauses Stifles on the Opponent.