Earlier today, there was an issue where Summoners that logged on shortly after the Login Calendar switched over for the day didn't receive the Cosmic Ghost Rider login crystal. We've fixed the issue for players receiving the crystal now but will have to collect data and send out the crystal to all players that didn't receive it next week. We apologize for this inconvenience and look forward to making it right for you all.
Human Torch Rebalance Information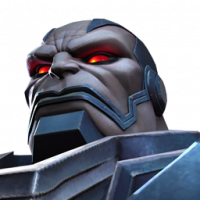 Kabam Miike
Posts: 6,799
Administrator ›
IF YOU HAVE NOT, READ THIS POST FIRST.
Summary:
After looking at Human Torch's data, it was pretty evident that he's very strong in specific matchups (mainly against Mystics, or when using his pre-fight abilities), but was underperforming in other matches. His original goal was to be great in certain matchups, but also to be a decent attacker in other matches as well. For his balance change, we decided to increase the rate at which he gains Temperature, allowing him to easily access his higher levels of damage, without making him better in matches where he already shines.
Conclusions:
The data shows a correlation between his average Temperature during a fight, and his fight performance.

We also did a specific investigation into DPS vs. Temperature. High Temperature has damage above the baseline, and low Temperature is below it.

In fights where he's able to maintain high temperature (consistently above 10, often above 17) and/or a high number of incinerates and smoulders, his damage is about 15% higher than the baseline.

In fights where he cannot maintain Temperature (consistently below 10), his damage is 15-40% lower than the baseline, depending on just how low his temperature is.

In examining DPS across all his matchups, good, average, and bad, Human Torch spends more time at low Temperature levels, so his damage across all fights and matchups is below baseline.

Important to note here that our "baseline" in this case is Ronin. We identified him as a Champion who we don't want to change, and believe is in a very good place balance-wise.

Objective of Changes:
Would like to improve his performance in his less than ideal matchups, without making him even better in the fights he's already good at.

Still want him to exist on either side of the damage baseline, depending on the player's ability to skillfully play as Human Torch and pick the correct matchups.

Want to narrow the gap between his best and worst fights.

Data:
The Following Charts are a comparison of his DPS, divided across different categories of Temperature. For example, L40%+M40%-H20%- means the player spent more than 40% of their time at low temperature (<=10), less than 40% at medium (>10, <=17) and less than 20% at high (>17, < =20).
From Left to Right, the Temperature ranges represented are:
-"Frequently low temp, infrequently at medium, infrequently at high"
-"Frequently low, infrequently medium, frequently high"
-"Frequently low, frequently medium, infrequently high"
-"Frequently low, frequently medium, frequently high" (balanced)
-"Infrequently low, infrequently medium, frequently high"
-"Infrequently low, frequently medium, infrequently high"
-"Infrequently low, frequently medium, frequently high"
This chart doesn't include fights against Mystic Champions, or fights where his Pre-Fight Ability is active. Against Mystic Champions his DPS improves by 20-60% (depending on Temperature), and while is Pre-Fight Ability is active it improves by 30-80% (also depending on Temperature).
The chart below illustrates where Human Torch resides on the DPS Percentile Scale. He is indicated by the highlighted Square. This chart is representative of our most Skilled Players.
Please note: Cull Obsidian has been removed from the Realm of Legends DPS, as he compresses the rest of the champions significantly.
It's also important to note that this is representative of his overall use. Since Human Torch tends to be used more in matchups where he would be very good, his DPS on this chart is higher than it would be in less opportune matches.
Changes:
The rate at which Temperature increases while charging Heavy is increased by 25%.

This may seem like a small change, but he can now go from 0-20 Temperature in approximately 2 seconds, which means he can reach Max Temperature from both a Parry, and from his SP2.

Additionally, because Temperature doesn't fall off for a few seconds when it reaches 20 (max), being able to easily reach Max Temperature has a compounding effect on how much time he spends at high Temperature overall.

Post edited by Kabam Miike on