Omega red taking bleed damage vs enhanced bleed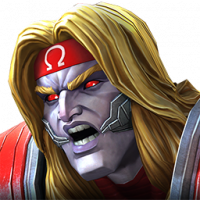 Hazzalec1
Posts: 302
★★
I'm slightly confused about the interaction of enhanced bleed nodes and omega red. I was running a biohazard node with omega and ran into an enhanced bleed node (40% increased bleed damage), however I thought omega red didn't take bleed damage if you ran 1 point I'll coagulate. Essentially:
Omega's 90% reduction + 10% reduction from coagulate
But then when I'm running into enhanced bleed I still take damage, regardless of the fact that omega red reduces bleed damage by 100%.

I've done some investigating and have found something.
Kabam adds nodes after abilities, so essentially omega red is reducing the damage by 100% but then the enhanced bleed is placed after that reduction so the 40% still occurs.

I'm confused as to why this happens because omega red should take -90% damage from ALL bleeds, not just those without enhanced bleed nodes.