Get a Free 3-6 Star Baron Zemo this Week!
Log in to the Summoner's Market at
https://store.playcontestofchampions.com/
and claim the Baron Zemo Selector between 10am PT November 24 and 10am PT on December 1st.
Proven and Below: 3-Star
Conqueror/Uncollected: 4-Star
Cavalier/Thronebreaker: 5-Star
Paragon/Valiant: 6-Star
You can only claim this Baron Zemo one time. The Baron Zemo is delivered as a selector, claiming it will require you to choose your rarity immediately. If you plan to change your Progression level during the Cyber Week event, we suggest you wait until you have made that change before claiming this selector.
How long does it take for Kabam to respond to a ticket?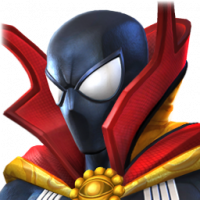 UltimateBatJoke
Posts: 215
★
Ok, I'm 2 fights from cavalier, and I bought a unit deal, but the units never loaded. I tried re-downloading the game, re-starting the game, and nothing. I submitted a ticket to Kabam, and I got a response saying that they're referring me to a different dept. to fix it. If any of you have dealt with this, how long does it normally take for them to fix it?
This discussion has been closed.