**UPDATE**
We are currently working to fix a known issue regarding Alliance Prestige. With the introduction of Relics, Summoner Prestige is now the average PI of your Top 5 Champions and the average PI of your Top 5 Relics (regardless of which Champion they are attached to) combined.

Today we pushed a fix that will allow for proper reward calculations in Alliance Quests. However, the display for Alliance Prestige will not be accurate and does not include Relic Prestige. This is a display issue only.

I am stuck !!!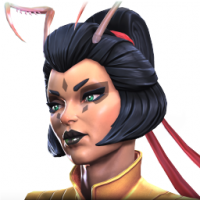 Dashamtvamasiay
Posts: 81
★
I am stuck in act 6.1.6 at the sentinel boss. I took the all or nothing path and wrecked majority of the opponents in this path with stark spidey but that electro !! My stark spidey already took a lot of block damage ( I don't keep evading for the whole fight) and that electro killed all my champions! So I used a team revive there and then now I am stuck at the sentinel boss (he's at 60% health now) .
I want to complete this as soon as possible(within 2 days) , so that I can do a couple more of hotel modoks and get that cavalier offer of 15k shards in the store.
So my questions are:-
1)is it possible to grind enough arena in 2 days to reach 200 units for revives?
2) how should I be fighting this sentinel, blocking him or fully dodging and baiting him?
3) should I use those 200 units on 2 team revives or individuals revives on Corvus(5/65)?