Earlier today, there was an issue where Summoners that logged on shortly after the Login Calendar switched over for the day didn't receive the Cosmic Ghost Rider login crystal. We've fixed the issue for players receiving the crystal now but will have to collect data and send out the crystal to all players that didn't receive it next week. We apologize for this inconvenience and look forward to making it right for you all.
Chilled 29m+ Alliance / 9000 Prestige that DOESN'T use Line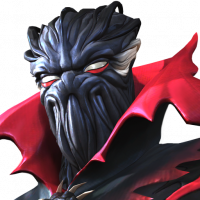 Wozzy101
Posts: 667
★★★
Hello all you awesome MCOC players. We're recruiting 1 slot for our awesome Alliance "Jedi" tag "pm2am".
We're a 29m Alliance that doesn't use Line or any other outside of the game media. Playing MCOC isn't a job, it's a game and should be fun. I've been in Alliances with Line, it's not fun. So in this Alliance you won't be getting lots of PM's telling you to "MOVE". As long as you manage yourself and are active in AQ and AW you're fine.
We're a typically Gold 3/2 Alliance. We run maps 5/5/4 in AQ averaging at least 150m. When AW isn't running we start the week on map 6 to push our AQ points even further. Gotta love all that Glory.
We're looking for a seasoned veteran minimum 800k+ or a high level of prestige and skill. If you're running at an end game level and looking to relax a bit and not stress at the top end, this would also be a great fit for you. Our current average member rating is over 1m and average prestige is over 9000. We have 15m 1million+ players amongst us.
We achieve at least 500k for Summoner Advancement as a minimum each week and Tier 5/6 of AW running 2 groups. And again no stress by not needing Line. Just be active and clear the lanes you take.
If you can handle AQ map 5/6 and Tier 6 of AW we'd love you in our Alliance.
We're a great bunch. Message either myself in game wozzle101 or our Alliance leader Omega Feara. See pics for details.