Need reduced 6* RNG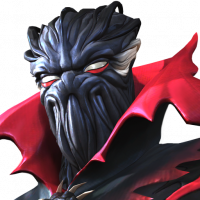 Wozzy101
Posts: 678
★★★
The dual 5* crystals are a great addition to the game. I think these really needed to be expanded to 6* as well.

These days pulling a meme tier 5* is a little annoying but with the flow of 5* shards that are coming it really doesn't take long before you're opening your next one.

But for 6* it takes a while between openings and when you awaken Red Team Cyclops (he joins his awakened Blue Team Cyclops) it's both infuriating and disappointing in equal measures. Especially after grinding Herald Difficulty 7 times in a row to get the shards.

I did an initial Abyss run last month. It felt like a great achievement, but the T5CC I earned remains benched as I no relevant tech champs to use it on. I want to focus on building 6* techs but am at the mercy of RNG Gods. It's honestly gutting when it feels like all the effort is wasted. Appreciate it's the same for all players but kind sucks the joy out of playing a game.

So Kabam, can we please get 6* dual crystals. It's the way forward so it's better to introduce them now.