Summoners, due to a technical issue, this week's series of Alliance Quests will be cancelled at 4pm PT. There will not be any Rewards for this series. The next series of Alliance Quests will start on April 18 at 12pm PT. We will be assessing the impact on Alliances and compensating accordingly, as well as returning Alliance Tickets.
White Magneto AQ map 7 miniboss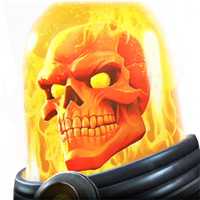 Char
Posts: 30
★
I apologize if there has been another thread where this was discussed, but I'm disappointed in the complexity that was created with the node combination on the 2nd white magneto miniboss:
- Mighty charge: ok so far, normally handled with reparry method
- Heavy hitter: well we know what this normally means, an AI programmed to constantly throw heavy attacks immediately after first dash. That makes the reparry almost non feasible 8 out of 10 times
- True strike: well, because no more quake cheesing on minis
- Power Struggle: on most fights this wouldn't matter, but if you end up blocking a lot you'll give him a lot more opportunities to steal your power just because of the AI constantly being unstoppable based on the first two bullets
- Power snack: because heaven forbid you ever need to bait specials, you're bound to push him to sp3

This is all before considering epic modifiers...