Summoners, due to a technical issue, this week's series of Alliance Quests will be cancelled at 4pm PT. There will not be any Rewards for this series. The next series of Alliance Quests will start on April 18 at 12pm PT. We will be assessing the impact on Alliances and compensating accordingly, as well as returning Alliance Tickets.
A few suggestions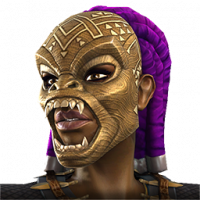 Typhico
Posts: 1
1. John Mulaney challenge:
Already some time ago but i still wonder why there was no title for it like for Boseman & Holland; Evangeline Lily; Jeff Goldblum Challenge.
2. Act 5 Chapter 4:
Being in labyrinth style and not being able to zoom out just makes it annoying to do 100% . Make all opponents with question mark like AQ and then problem solved.
3. AQ/AW:
German translation of the "push someone" thing is wrong: It now means: "Someone pushed you" instead what it should be "You pushed someone ".
4. More tags for champions:
Immunities and own debuffs the champions is applying.
5. Using more than one +5 Energy Boost. I mean when i opened my 4h Crystals, i have like hundreds of these and it is just annoying to use them all seperately. Just do it like Potions or Revives.