Adding Insult to Injury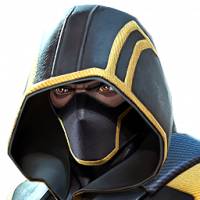 Masterpuff
Posts: 5,956
★★★★★
So I was giving
@Crcrcrc
a really hard time about not completing 6.3. So i went and completed it on my second account, •Lil Puff•. That began 2 days ago i think, I did 6.3.3-6.4.1 the first day.
Then i decided, why not beat him to Act 6 completion. 6.4.2-6.4.6. Maybe another day as well where i did stuff. Come to think about it, i think i had another day in there.
Here was my roster before completion of 6.4:
It is a very small roster, that has some serious bangers. I used Ghost for 80% of all of act 6. She crushed it. Mags put in work too. I have not explored any story at all, and do not do arena. This account isnt quite f2p, but ive spent 25$ in all, part of which was the sigil 2 days ago.
That Doom was from 6.3 completion, a very clutch pull without him, i would be very stuck. I spent >100 units on 6.4.1-6.4.5, and 650 ish on 6.4.6. 550 were on the grandmaster.
Usually i can solo him with Doom, but, this one was a r1 level 15 6*, which was an unfortunate experience.
It was pretty fun, im not gonna do any exploration of anything yet, im about to start 7.1! Just to rub it in Cr's face.
This account also hasnt turned 1 year old yet.
Here were the rewards!! And i am really happy with them.
Venom is incredible, I havent even started V5 or V2.
In terms of rankups, I can never get iso so all i did was:
Couldnt be happier about this. Im only level 47, so i had a lot of stuff in the overflow. Thus, i didnt use the gem.
I have plans to rank up 5* AA as well as a Human Torch i pulled from 6.3.
Oh, and Crcrcrc is still on 6.3.1.