Get a Free 3-6 Star Baron Zemo this Week!
Log in to the Summoner's Market at
https://store.playcontestofchampions.com/
and claim the Baron Zemo Selector between 10am PT November 24 and 10am PT on December 1st.
Proven and Below: 3-Star
Conqueror/Uncollected: 4-Star
Cavalier/Thronebreaker: 5-Star
Paragon/Valiant: 6-Star
You can only claim this Baron Zemo one time. The Baron Zemo is delivered as a selector, claiming it will require you to choose your rarity immediately. If you plan to change your Progression level during the Cyber Week event, we suggest you wait until you have made that change before claiming this selector.
Cable's Heavy Degen is Bugged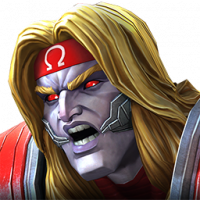 sleimon
Posts: 34
★
The strength of Cable's degen is determined by how much power the opponent has. The more power the opponent has, the less his degen does. Once you throw a heavy, that degen damaged is fixed throughout the duration of the degen based on how much power the opponent had at the instance the degen activated. How it's working now is that all the degens that have been previously applied, take on the same damage as the most recently applied degen.
as you can see here, the first degen applied from the first hit of the heavy does the most amount of damage (746 a tick) because ws had the least amount of power when that degen was activated.
Both heavy degens are doing the same amount of damage. The previous degen has taken on the same tick damage from the most recently applied degen
All consecutive degens take on the same tick damage as the most recently applied degen. That's not how cable worked and according to a couple Cable players I've talked to, this has negatively impacted his damage.