New Arena Structure Feedback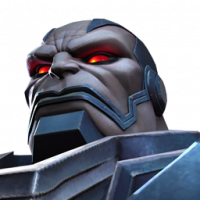 Kabam Miike
Posts: 7,649
Administrator∙Moderator ›
Greetings Summoners!

Today, we kick off the brand new Arena System that reduces the number of Arenas and introduces 6-Star Featured Champions, as well as 5 and 6-Star Basic Heroes.

If you remember when we tried to eliminate deathmatches in the Arena, it's not always possible for us to predict how a change to Arenas will affect Summoners, so we're setting up this thread for your feedback and to report any issues!

These new Arenas may alter the Arena experience, and while some change and alteration of behaviour is to be expected, if there is anything you feel is too different or difficult, we'd like to know.

Please do not use this thread to discuss potential Arena Cutoffs. While we want to hear opinions on those as well, this thread is about the actual experience of playing in the new Arenas.

Also, please note that the "Infinite Streak" method is not being altered, but since there is no actual concrete method to achieve that, it will continue to change as more Summoners obtain more of the new highest Rank of Champions.
This discussion has been closed.