Is this a sign Beast and Iceman are getting a Buff next month?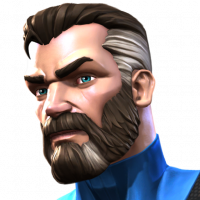 AlecFantastic
Posts: 271
★★★
In the new loading screen you'll see a bunch of Champs pictures hanging on a board that Kraven has put darts and Knives into. It consists of champs that came out this year as well as some that have already received a buff this year. Then you have some champs we players typically would say are in need of a buff. Of those champs only 2 of them have been marked with a Knife or a Dart, Beast and Iceman. The rest have darts that have "missed" them or are close but aren't marked. This could be a hint.
This is all just a guess of course but it could make sense, if next month is potentially a mutant month those 2 are perfect candidates for the 2 buff spots. Beast would obviously get the overhaul, but Iceman would be very interesting for a moderate. We've already seen solid champs like Bishop and Nebula selected for a buff so maybe Iceman will get something interesting like finally being coldsnap immune or some numbers boosts.