Which Science champ to Awaken?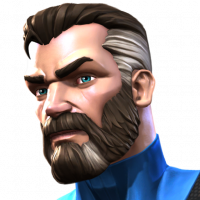 Squirrelguy
Posts: 2,047
★★★★★
So, one of my Act 7 rewards was a Science Awakening gem. My current roster is this:
My thoughts are as follows:
1) I only pulled a 5* Void recently so I really never got the chance to play him and he's definitely an interesting champ. I really dislike suicides, so I don't have to worry much about those and I also don't care about prestige. I have 64 generic stones right now to put into him, but I could funnel any new ones to him.
2) I like Shulk's awakened ability, but I don't play her a ton. I really like Spam but his isn't super impactful. I don't love Torch for whatever reason, although he is nice for boss kills and Mystic annoyances (and Battlegrounds, depending on the node), his awakened ability doesn't really come in to play for those instances. I also have a 5/65 awakened 5* Torch and Spam.
3) I like Negative, Fantastic, and Spidey 2099 from what I've seen. That's about it.
4) Here is my biggest dilemma. Herc was a community choice champ and is crazy good. I absolutely love speedsters and think Quicksilver has a lot of potential in-game. His awakened ability may be nothing, or it may be super useful. The drawback is that he won't probably make it to featured crystals or Cavs until like October or something (if anyone has any more specific details on his release date, please let me know). If I decide to wait for him, I may even hoard up all my 6* shards for his featured crystal. I just don't know if I should save such a valuable resource for such a specific champ.
Thoughts?
Which Science champ to Awaken?
49 votes
Post edited by Kabam Zanzibar on