Get a Free 3-6 Star Baron Zemo this Week!
Log in to the Summoner's Market at
https://store.playcontestofchampions.com/
and claim the Baron Zemo Selector between 10am PT November 24 and 10am PT on December 1st.
Proven and Below: 3-Star
Conqueror/Uncollected: 4-Star
Cavalier/Thronebreaker: 5-Star
Paragon/Valiant: 6-Star
You can only claim this Baron Zemo one time. The Baron Zemo is delivered as a selector, claiming it will require you to choose your rarity immediately. If you plan to change your Progression level during the Cyber Week event, we suggest you wait until you have made that change before claiming this selector.
Introducing the next Campaign Progression Level: Paragon!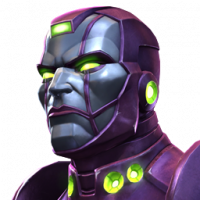 MCOC Team
Posts: 472
Administrator∙Moderator ›
Greetings Summoners,
For those that have conquered every challenge that the Contest has to offer those that have obtained the title of Thronebreaker, a new Campaign Progression level is on its way!
Much like Cavalier was when Thronbreaker was introduced, we are in a similar state where a newly ordained Thronebreaker is in a wildly different space than those that have 100% completed all content that is available in the game, which is why we believe it's a great time to introduce you to the next title!
Become a Paragon!
The new "Paragon" title is on its way next month! This step beyond Thronebreaker will offer its own set of perks and challenges and is tailored to those that have climbed every mountain in the Battlerealm.
Requirements
To obtain the designation of Paragon, you must complete Act 7 Chapter 4, and have 3x Rank 4 6-Star Champions in your Roster.
When we said that this is for those that have done everything, we meant it!
While we wanted this next progression level to be a challenge to obtain, it was also important to us that we did not put this out of reach for skilled Summoners that choose not to purchase 6-Star Rank 4 Materials, and that this remains accessible (though difficult) for all Summoners to obtain, regardless of their monetary investments.
With that in mind, we made sure that on day 1, it was possible to do for a Summoner that has:
Completed all of the Story Content in-game

Completed all of last year's Summer of Pain objectives

Completed Carina's Challenges (Volumes 1 and 2),

Plays in a higher tier competitive Alliance

Purchased the Unit offer at the end of Act 7 Chapter 4

Again, we want to reiterate that this is meant to be a difficult title to obtain, but we wanted to ensure that we're making a road for all Summoners to make their way to Paragon.
More Chances to Obtain T3A and T6B:
The rarest resources to obtain for those seeking to empower their 6-Stars to Rank 4 are Tier 3 Alpha and Tier 6 Basic Catalysts. These rare resources are available in difficult content, but some of you may have missed some of that content or did not purchase the 7.4 Exploration Bundle.
Never fear, because an Eternity of Pain is near! A new event will be starting soon and will help Thronebreakers obtain materials that will help them add more Rank 4 Materials to their inventories.
There will also be Objectives exclusively available to Summoners that have already obtained the title of Paragon!
The Benefits
Like progression levels that were added before it, the list of benefits and content for Paragon is likely to grow, but at launch, you can expect:
Updated Daily and 4-Hour Crystals

Updated Weekly Login Calendar

Special offers tailored to this progression level

Exclusive objectives for the Eternity of Pain

An updated Monthly Calendar (will start in June)

More Info on the contents of Crystals and Calendar coming soon!
Coming Soon!
Paragon will launch with v35.0, which is scheduled to release in the first week of May. Update to the latest release as soon as possible to enjoy these additions right away!
Post edited by Kabam Miike on