**UPDATE**
We are currently working to fix a known issue regarding Alliance Prestige. With the introduction of Relics, Summoner Prestige is now the average PI of your Top 5 Champions and the average PI of your Top 5 Relics (regardless of which Champion they are attached to) combined.

Today we pushed a fix that will allow for proper reward calculations in Alliance Quests. However, the display for Alliance Prestige will not be accurate and does not include Relic Prestige. This is a display issue only.

Mr. Fantastic + Galan synergy not working for Mr. F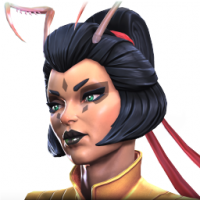 Kd101
Posts: 121
★
So I loved the new synergy for Mr. Fantastic with Galan and it was awesome to use and have fun with… I began to use Mr. Fantastic with it and even took him to R3 because of it. Sadly I noticed today while doing cav EQ it wasn't working. Tried it out in realm of legends… it turns out it isn't working at all. Is this intentional?