**KNOWN ISSUE**
Currently, Alliance Prestige (as it concerns Alliance Quests) is not taking Relic Prestige into account. If possible, we are working to address this for the next round of Alliance Quests but will have more information for you when it is available.
Twenty-four two-star champs is nice, but it's not enough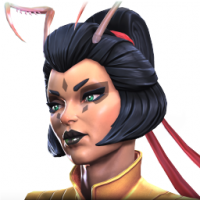 SpiderGlenn
Posts: 5
★
Kabam is giving everyone 25 two-star champions (Quicksilver and the Gatekeeper calendar) this month, but that's a drop in the bucket when you consider there are nearly 200 two-star champions who aren't in regular crystals. If you want to awaken one of them or raise their signature level to anything significant, you're basically out of luck.

I've been playing the contest for over five years. While I have reached Paragon, I'm still not all that good at the game. One thing I do enjoy is collecting the heroes, and I have over 1,000 of them on my roster. The most that anybody in the contest has is 1,117. That means he is missing 25 champions. You'd think they'd mostly be 6-stars, but they're mostly 2-stars and I can name many of them. Personally, 52 of 119 that I'm missing are 2-stars. The reason for this is that most are rarely available, and some have never been available.

Compounding this issue, some champions need to be awakened and have high signature levels to be most effective. While the average sig level of my 4* champions is 97, my 2-star champions average fewer than 30 sig levels. Everyone knows this is because when you dupe a two-star It increases signature level by just one and you get very few chances to do even that.

I realize that 2* are not very useful in the game outside the extremely limited content, like the current crystal arenas, where 2* are required. It seemed for a while that Kabam recognized this. When I started playing the contest, there were around 150 champions in the contest and forty did not exist as 2-stars. Two years later, on June 27, 2019, Invisible Woman was released but not as a 2-star. At that time, there were about 100 2* champions that were not in the PHC and that was going to be it. Kabam even discontinued "The Daily Special" where you could get a class crystal that guaranteed a 2* champion with a chance to get a 3* or 4*. Even there, the 2* were limited to the champs in the PHC.

This continued for the next 19 champions. Each was released only as a 3-star and up. However, in May 2020, with the release of Black Widow (Deadly Origin), it all changed. Not only was she was released as a 2-star, but the forty champions who had previously been unavailable were released as 2-stars as well. This pattern has continued to today. This has made it nearly impossible to acquire or add sig levels to 2-star champions once you've maxed out those in the PHC. The only guaranteed way to get a new 2-star is through Marvel Insider. However, this is only available to adults living in the U.S. The only way to get a new 2-star in game has been the Collector Crystal. However, there's only a "chance" to get a 2-star that isn't in the PHC. While this undisclosed chance is certainly higher that the chance to get an Immortal Iron Fist from a max sig crystal, it's not high enough.

What are some solutions?

1) Give summoners at least one of the newly released champions as a two-star each month (They've actually done this in two of the past three months, and the other could be available through Marvel Insider.)

2) Collector Crystals should contain ONLY champions who are not regularly available.

3) Expand or completely change which two-star champions are in the Premium Hero Crystal.

4) Increase the drop rate of 2-star awakening gems in the Solo Crystal

5) Make two-star signature stones more available and/or worth more sig levels

6) No more new two-star champions



My guess is that BrutalDLX is missing 2* Anti-Venom, Captain America (Sam Wilson), Galen, Gorr, Hulkling (or Wiccan), Ikaris, Knull, Nimrod, Peni Parker, Purgatory, Sauron, Scarlet Witch, Scorpion, Sersi, Shang-Chi, Super-Skrull, Stryfe, and Wong. He is missing 6* Quicksilver and 6* Scarlet Witch (Classic). We will both be getting Air-Walker and Terrax this weekend. Basically, everyone who plays the game is missing them since they've never been made available. (A few people have 6* Quicksilver from the preview crystal.)


P.S. In addition to Quicksilver, only seven of the twenty-four from the calendar for a total of eight will be new for me. I have gotten four new two-stars through Marvel Insider this month because last month's rewards were delayed.